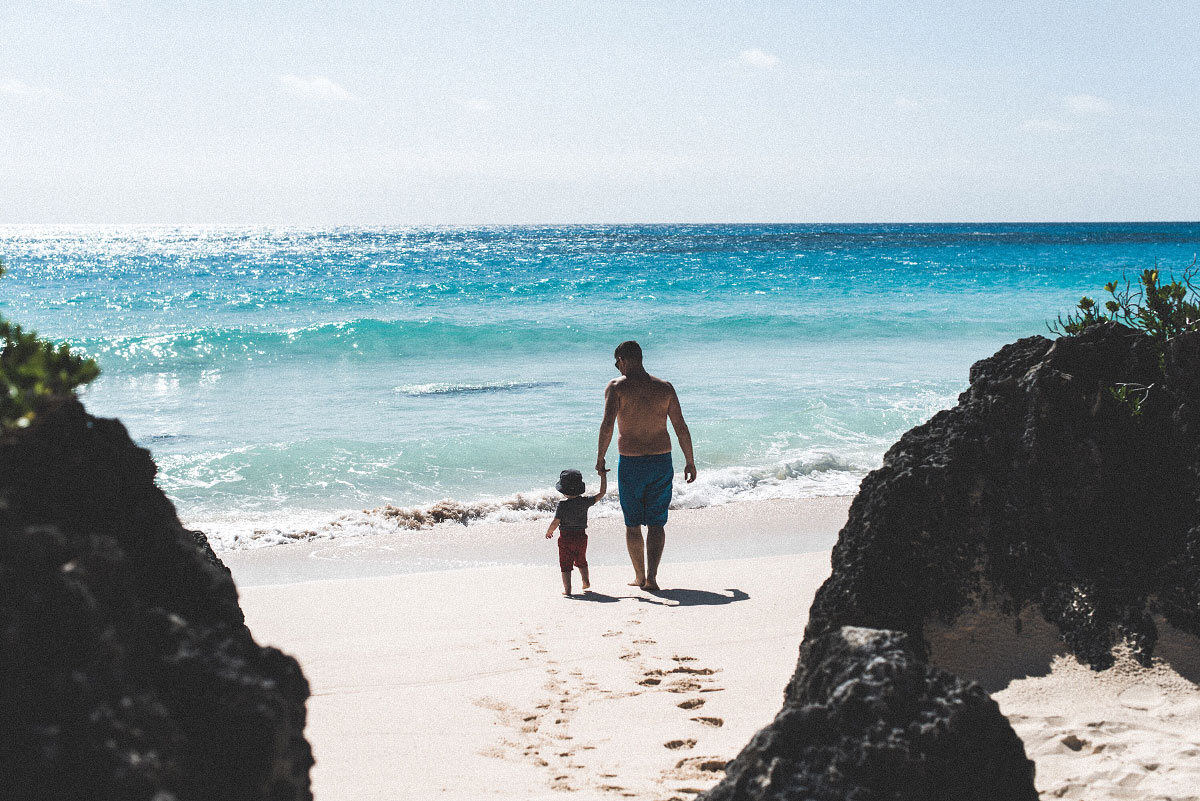 Travel
Bermudas in winter
20 February 2018
I love to travel ! Airports, people, food, drinks. I feel free like a St-Hubert chicken nugget.
In February 2017, I had the chance to visit Bermuda, a small island located in the Atlantic Ocean. A true paradise my friends!
I know, it was last year, but I really wanted to talk to you about it anyway.
We chose this island because it was one of the only places that did not pose a risk of Zika, a very dangerous virus for pregnant women (and my girlfriend was with our little Éloi at that time). The mosquito responsible for the transmission being absent, it was the perfect place to escape!
My son William is allergic to peanuts, so we rented a AIR BNB with a kitchen for me to feed the family. I love doing markets in other countries, it allows me to mingle with the locals. The condo was perfect and especially located near the beaches, public transport and a really good restaurant.
Choy (the owner of the condo) was very friendly and helped us a lot by taking me to the grocery store by car for shopping! He is also the director of the Hamilton Zoo and Aquarium. He made us take a VIP tour of the place and even feed giant sea turtles. Pretty crazy!
Note, this island is not part of the Caribbean archipelago. In fact, it is very much to the north, about the same height as South Carolina, which makes it a subtropical island. It is still warm during the winter but the water is around 65 °F. Just crazy people like me dare to swim!
Bermuda is beautiful, but it's expensive! I knew the value of their dollar was equivalent to that of the US, but I did not know that the cost of living was so high. For example, an average grocery week here costs me about $ 120 Canadian. Over there: $ 600 Canadian! I peed on the floor when I saw the amount at the checkout. Luckily, I was wearing a diaper that day.
This island is worth it, though. The fauna and flora are incredible! Since it is a volcanic island, the beaches are filled with huge black rocks. The water is blue and the sand is fine. There is even a pink sand beach. We discovered several small private lagoons filled with huge fish and crabs. My son liked it (we did it too)!
In summary, I recommend this place in winter, especially if you are pregnant, or in the summer to swim! It is very safe, super beautiful (with its British influences) and ultra welcoming. See below my positive and negative points and the link to my Air BNB!
PLACES TO VISIT :
– Aquarium and Zoo (Hamilton Parish)
– Spittal Pond Nature Reserve (South Road)
– Crystal cellars (Hamilton Parish)
– The city of St Georges (the oldest on the island)
– The Royal Naval Dockyard (Ireland North Island)
– The Botanical Garden (Camden Parish)
– The City of Hamilton and its Front Street
– Marley Beach
– Horseshoe Bay Cove
POSITIVE POINTS :
– Very efficient public transportation
– Ultra safe
– Really very clean
– Very nice places
– Direct and fast flights
– No ZIKA present on the island
– English language spoken fluently
– Fauna and flora quite impressive
– Family friendly
NEGATIVE POINTS :
– Very high cost of living
– Cold sea in winter
AIR BNB :
–

https://www.airbnb.ca/rooms/4539834?locale=en