Homemade multigrain bread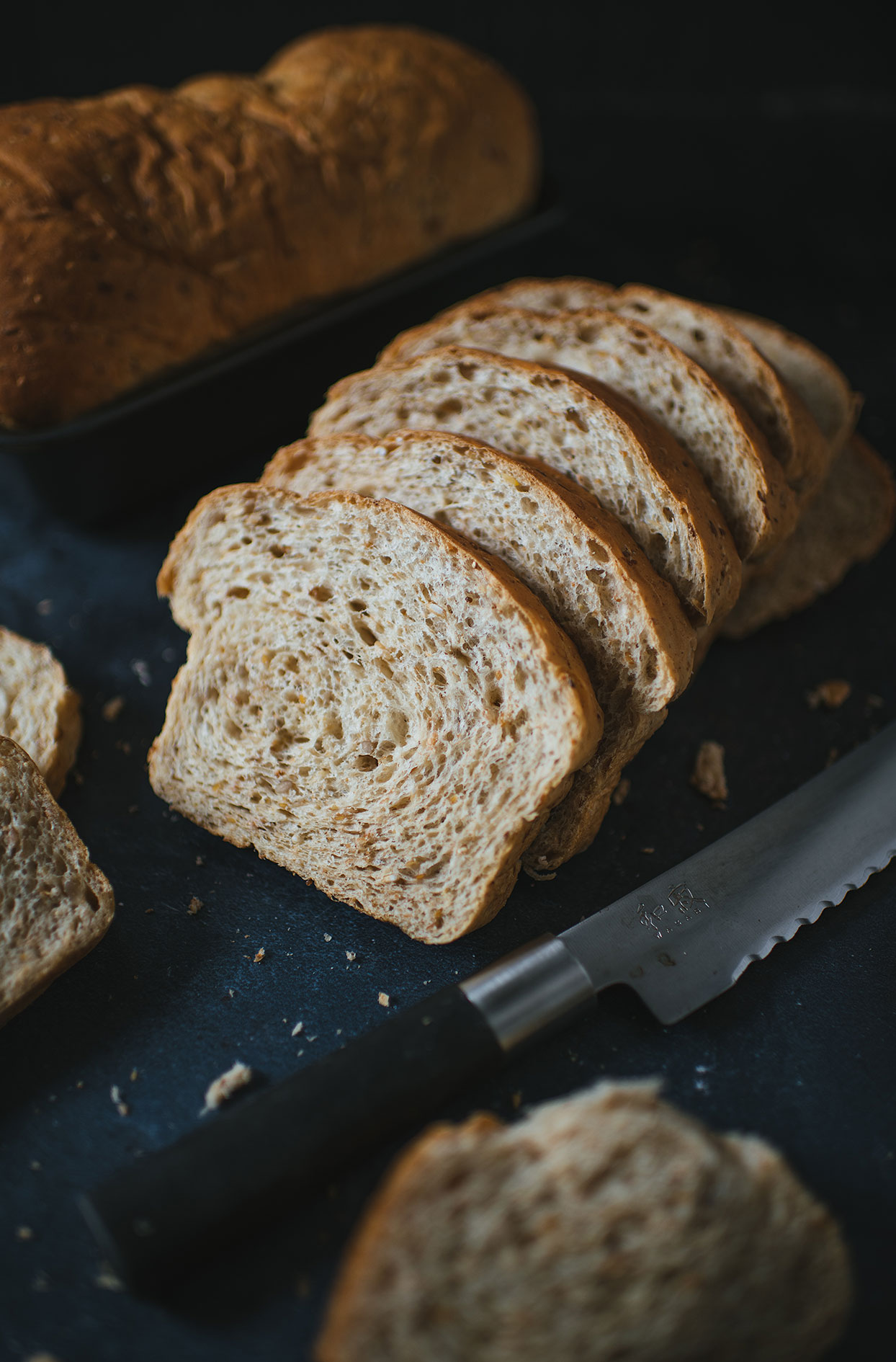 Preparation

6 h

Cooking

30 min

Servings

2 loaves

Freezing

Absolutely
My kids and I are in love with my homemade multigrain bread recipe. The recipe takes time to make, but believe me, it's worth it! This bread keeps for about 1 week in an airtight bag, and freezes beautifully once sliced!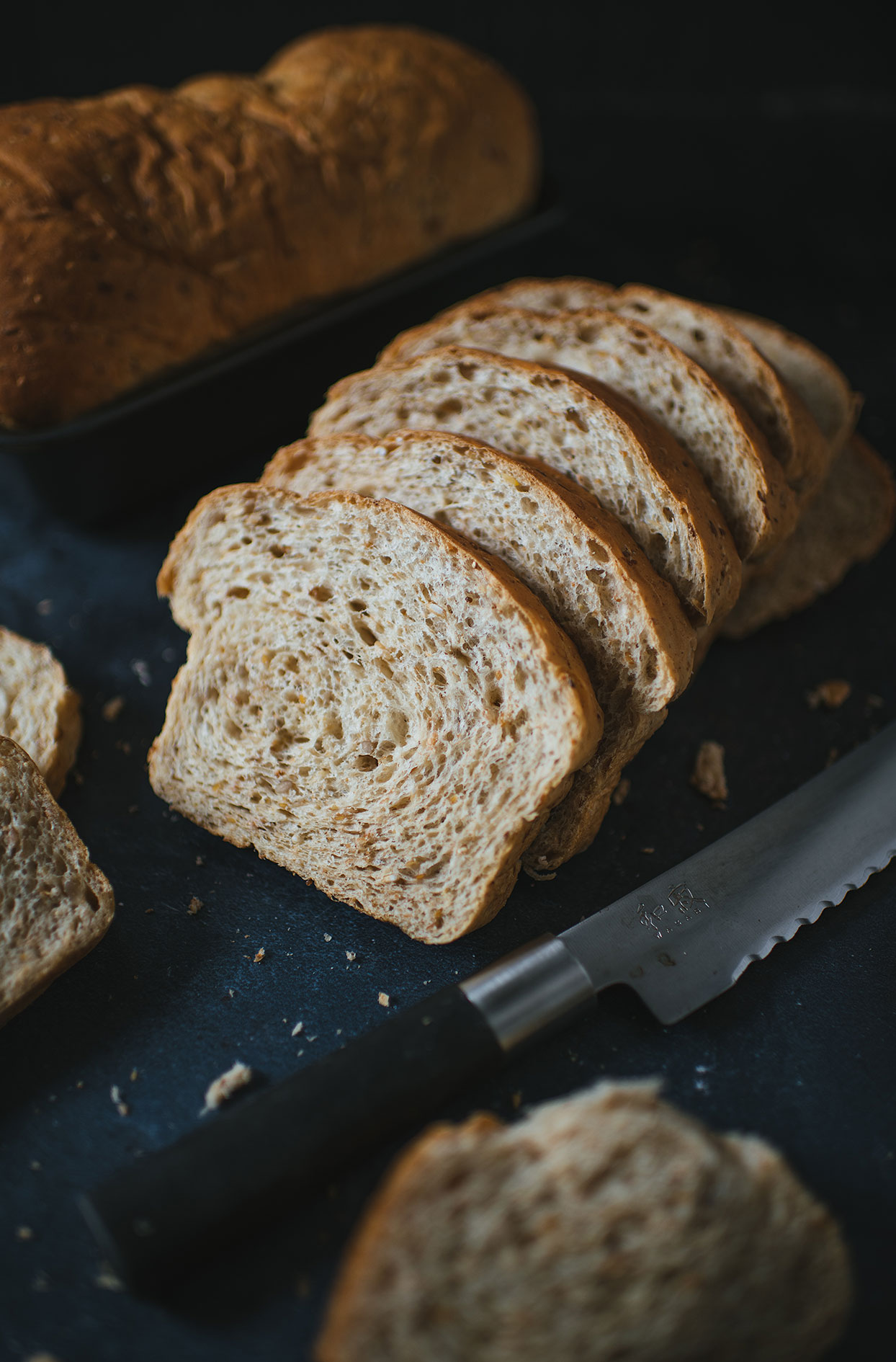 Multigrain mix
1/4 cup spelt flakes
1/4 cup quick-cooking oatmeal flakes
1/4 cup whole-grain oats
1/4 cup quinoa
1/4 cup flax seeds
1/4 cup unshelled, unsalted sunflower seeds
Ingredients
1 3/4 cups boiling water
1 cup multigrain mix
3 tbsp (45 g) compact brown sugar
2 tsp (16 g) traditional active yeast
3 tbsp (45 ml) vegetable oil
2 cups unbleached bread flour (345 g)
1 1/3 cups (220 g) whole-wheat flour
3 tsp Fleischmann's Bread Improver (16 g)
https://www.iga.net/fr/produit/bonifiant-de-pain/00000_000000006421700031
1 1/2 tsp (16 g) salt
All-purpose flour for work surfaces
Original PAM-type cooking spray
Preparation
In a large airtight jar, place the ingredients for the multigrain mix, close the dish and stir for 1 minute.
Place boiling water in a large bowl and let cool for 20 minutes. Add 1 cup of multigrain mix, stir and let stand for 5 minutes.
Add the brown sugar and yeast and mix well to dilute the sugar. Let stand for 7 to 10 minutes, until mixture begins to foam. Add vegetable oil.
Place bread flour, whole-wheat flour, bread improver and salt in the bowl of a stand mixer and mix.
Add the yeast mixture to the bowl and knead with the dough hook for 4 minutes. Of course, you can also knead by hand. Add a little flour if the dough sticks to your hands.
Place the ball in a large bowl greased with cooking spray and cover with plastic wrap. Leave to rise for 45 minutes, until doubled in size.
Punch the ball to release the air and place on a floured work surface. Knead 20 times, then cut in half evenly.
Grease two loaf pans with cooking spray.
Using a rolling pin, roll out the two pieces to the width of the loaf pans and about 30 cm long.
Roll tightly from bottom to top, pinch the folds and turn over so that the folds are underneath. Fold the ends over slightly and place in the loaf pans.
Cover with a damp dishcloth and leave to rise for about 2 hours, away from drafts, until the bread bursts into height.
Preheat oven to 350°F.
Carefully place loaves in oven on center rack and bake for about 30 minutes, or until internal temperature reaches 190°F.
Cool for 1 hour before unmolding. Transfer to a wire rack and cool for 2 hours before slicing! Keeps for about 1 week in an airtight bag, and freezes beautifully once sliced!