Easter boozy brunch
Brunch, halfway between "breakfast" and "lunch", is the perfect time to share a delicious meal and a few glasses of mimosas with family and friends. It's an Easter classic and a good reason to celebrate the arrival of spring. The term "brunch" was invented in 1895 by an English journalist who liked to sleep in on Sunday mornings after a late Saturday night party.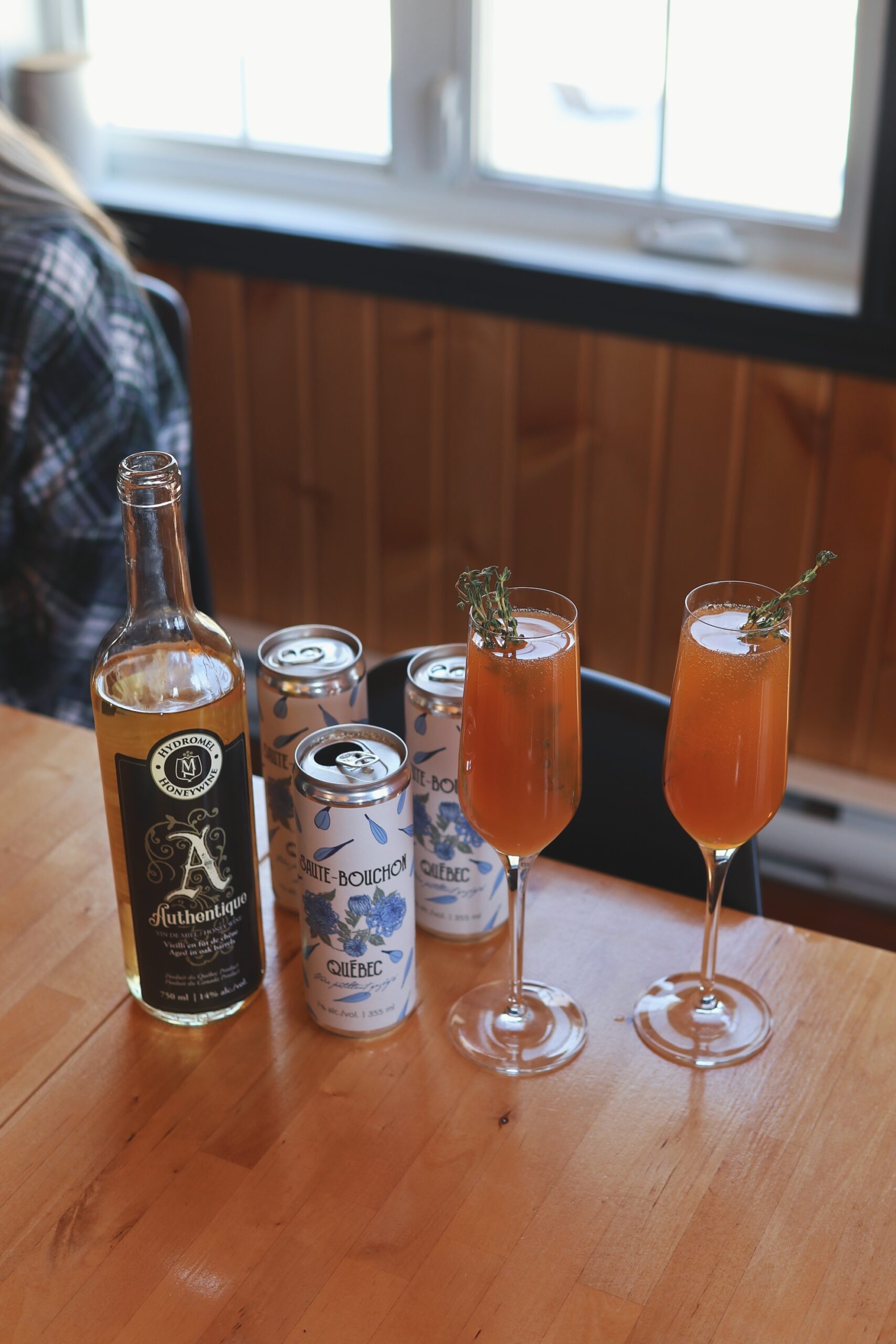 A certain Franck Meier, bartender at the bar of the Ritz Hotel in Paris, was the one who created the famous mimosa. Today, along with the Bloody Mary, it is the most popular cocktail at brunch time throughout Europe and America. The proportions vary by country, but the ingredients remain essentially the same: orange juice and champagne (or Cava, Prosseco or other sparkling wine). This year, I suggest that you deviate from the traditional mimosa formula to feature one or more Quebec alcoholic products.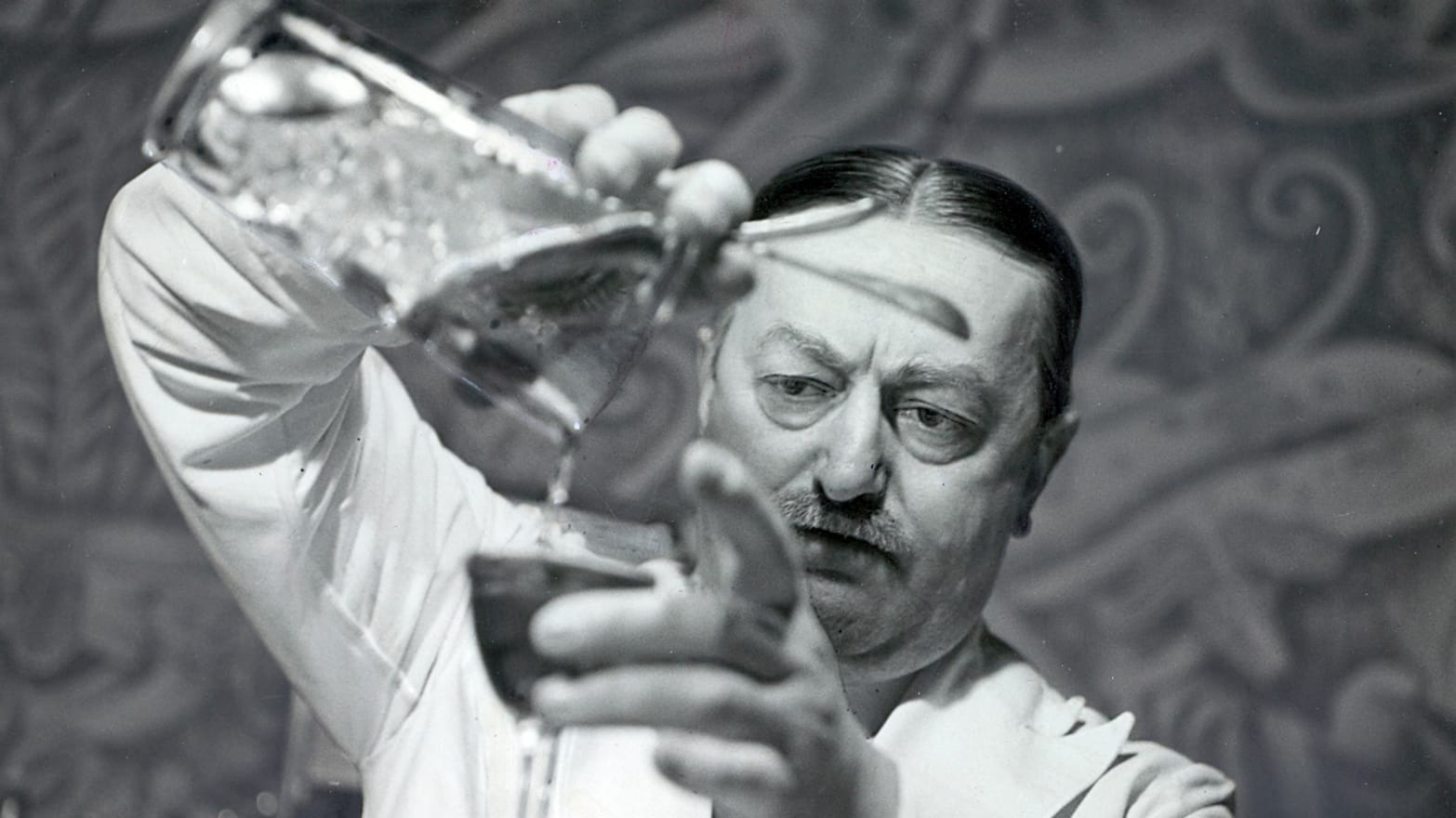 Creamsicle Mimosa
Alcoholic product : Cremaglace vanille
Cremaglace is an alcoholic vanilla cream that can be consumed on ice, in cocktails, in a coffee or even on a dessert. It tastes like melted vanilla ice cream. You can get your bottle at the SAQ for $34.75. Club Local has also created a chocolate and a pistachio Cremaglace.
Ingredients
Orange juice – 2 oz
Vanilla Ice Cream – 1 oz
Cremaglace vanille – 1 oz
Sparkling Wine – 4 oz
Steps
Blend juice, ice cream and Cremaglace in blender until smooth.
Fill half the glasses with the mixture from step 1.
Top up with sparkling wine and serve.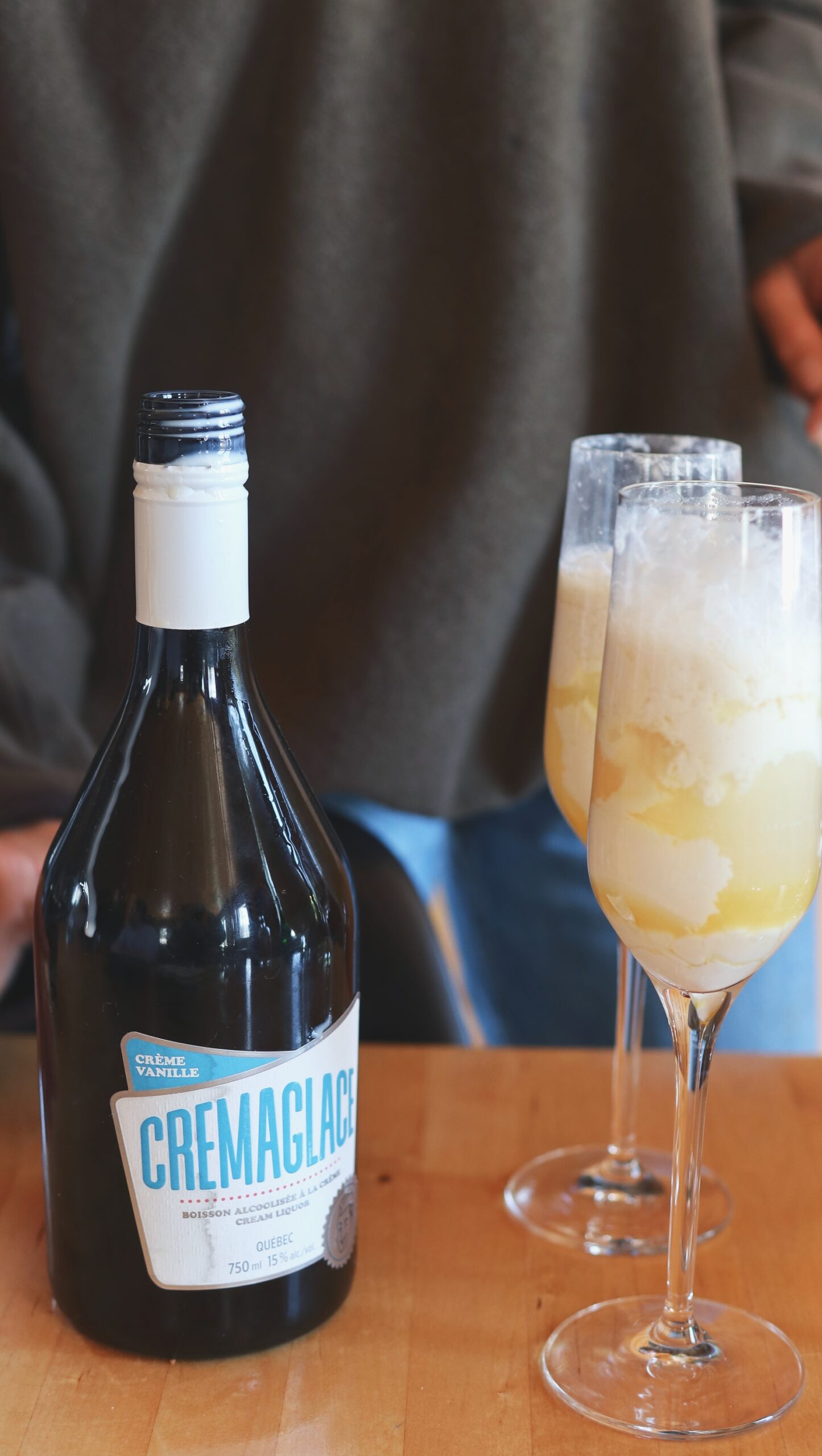 Passion Mimosa
Alcoholic product : Passion Cirka
Cirka Distillery is working hard to offer 100% local spirits to its consumers. They innovated by creating a passion fruit liqueur last year. The carefully selected fruit is married to their base spirit distilled with aromatics and then gently sweetened with ethically grown cane sugar. You can purchase this delicious bottle at the SAQ for $38.25 or directly from the distillery.
Ingredients
Tropical Passion Juice – 2 oz
Passion Fruit Liqueur – 2 oz
Sparkling Wine – 4 oz
Steps
Pour all ingredients into a flute and serve.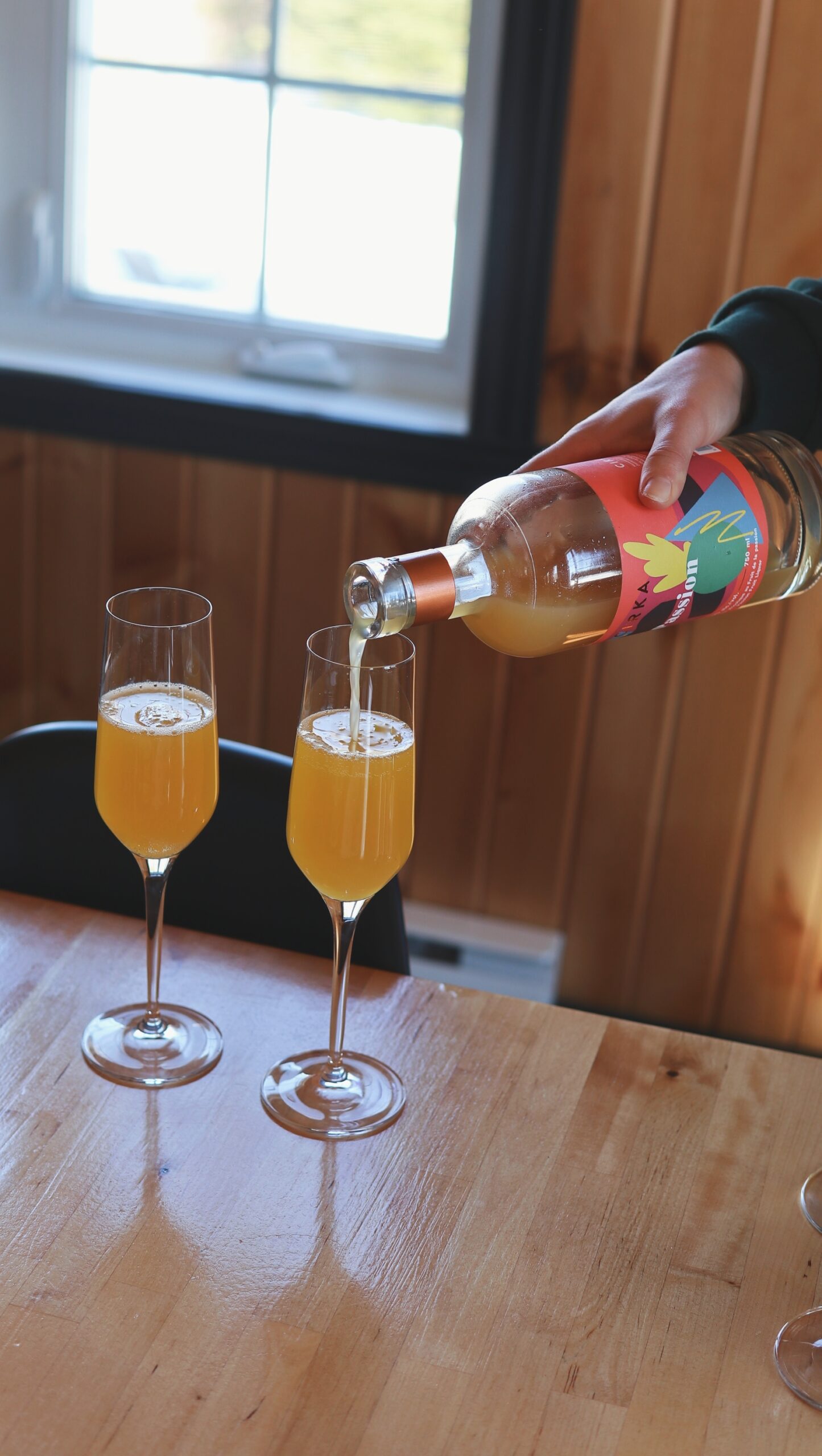 Honey and apple Mimosa
Alcoholic product #1 : Hydromel Miel Nature Authentique
This oak-aged sweet mead is simply delicious and is available at the SAQ for $25. In my opinion, Quebec meads are still too unknown to Quebecers. There are so many fabulous companies here that create exceptional products, give them a chance. Whether it's to drink on ice with a cheese platter or to make a fancy cocktail, meads have their place in our bars. Mead is a honey wine and dates back more than 7,000 years before the appearance of wines made from the fermentation of grape must.
Alcoholic product #2 : Cidre Saute-Bouchon
Saute-Bouchon's mission is to create bubbles from around the world and their first vintage is from Quebec, in collaboration with Cidrerie Lacroix. Their philosophy: "Every day is unique and deserves to be celebrated". It is made of 50% Lobo and 50% McIntoch apples and is 7% alc./vol. You can buy it directly at the SAQ for $15.95 for the 750 ml bottle or $13.80 for the 4-pack of cans.
Ingredients
Old Fashioned Apple Juice – 2 oz
Mead – 2 oz
Saute-Bouchon Cider – 4 oz
Steps
Pour all ingredients into a flute and serve.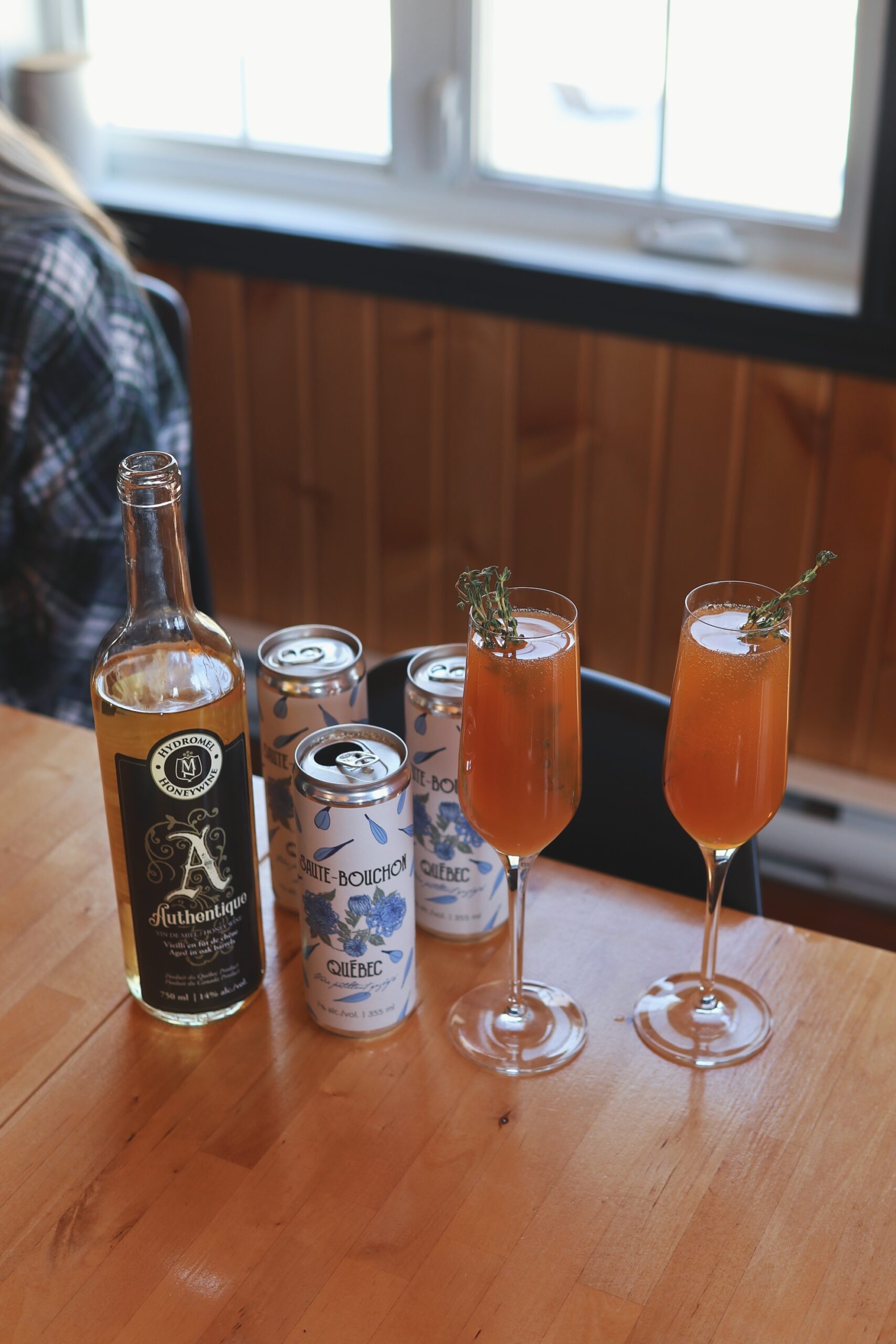 To make your boozy brunch even greedy, I suggest you try these mouthwatering recipes that will pair perfectly with a good mimosa: