Road trip in the Bas-Saint-Laurent – Part I
Being a native of the Gaspé Peninsula, I have often taken route 132, the one that runs along the St. Lawrence River, also known as the Navigators' Route. Forget the hikes, the famous sunsets or camping… we will talk about food, beer and spirits!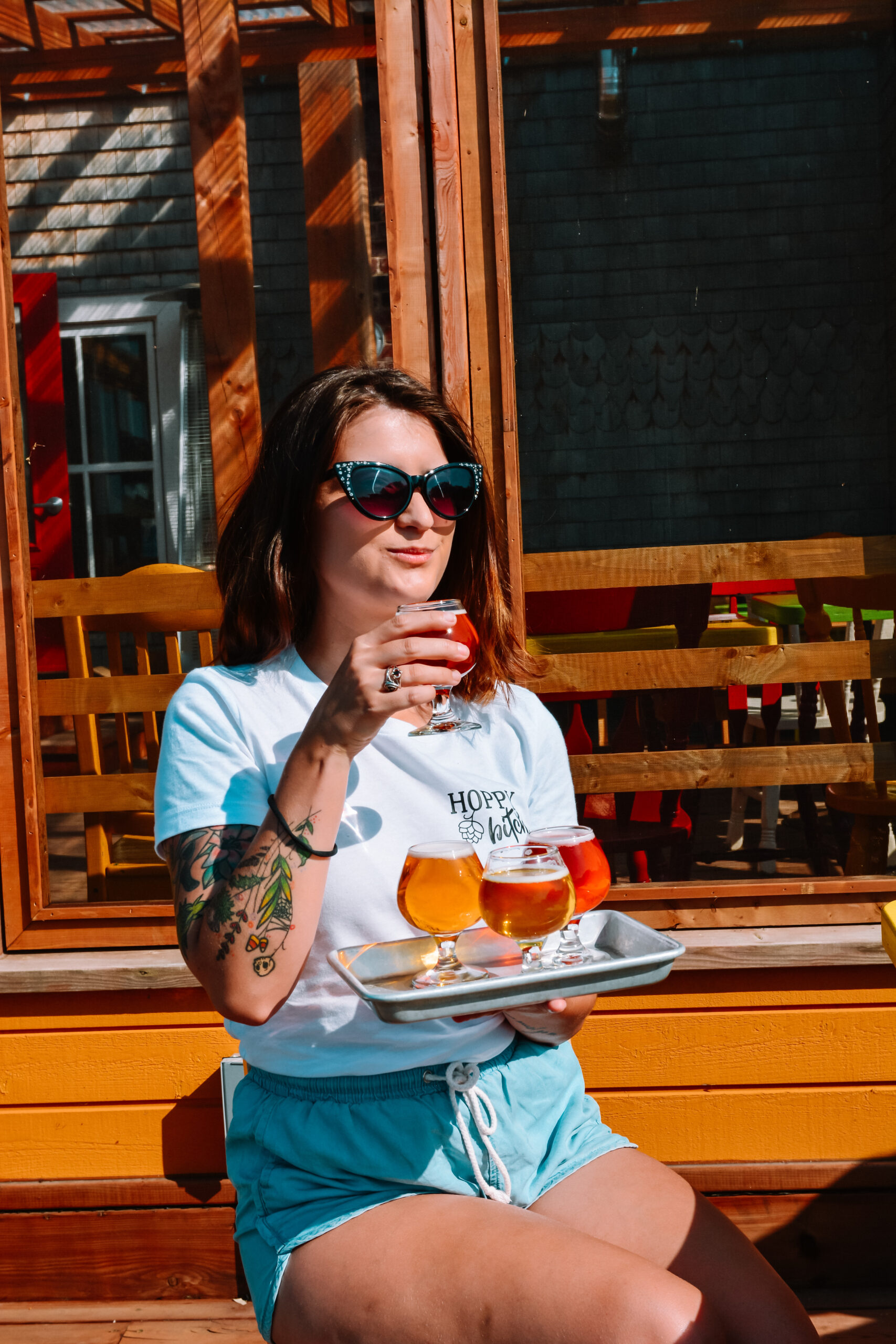 Technically this microbrewery is not in the Bas-Saint-Laurent, but it is worth the detour. Located in the heart of the city of Montmagny, their building is hard to miss. Since 2017, they offer 15 keg lines in a warm atmosphere. On the food side, come and discover their slate based on local products. I recommend the Witbier and their cheese and charcuterie platter.
50, Taché Blvd. Taché west, Montmagny
Also in Montmagny : Le Café Bonté Divine, Cidrerie Domaine Ritt, Boulangerie et Pâtisserie l'Épi d'Or, Maison Rousseau, Théo BBQ.
Ras L'Bock – Saint-Jean-Port-Joli & La Pocatière
Ras L'Bock, which now has 3 locations, is a microbrewery right on the St. Lawrence River. Well okay… I said I wouldn't talk about sunset, but the Pub's terrace is well worth the detour whether it's to have a drink or to watch the sunset or a good show. In addition to being very awesome, they brew good beers! I recommend the Watatawow and the pickled burgot.
Pub : 250, Du Quai street, Saint-Jean-Port-Joli
Store: 4-B, chemin du Roy Est, Saint-Jean-Port-Joli
Factory: 134, Parc-de-L'innovation street, La Pocatière
Also in Saint-Jean-Port-Joli and La Pocatière : La Libellule, Le moule à sucre, Fromagerie Port-Joli, Boulangerie du pain c'est tout !, Café bonté divine.
La Baleine Endiablée – Rivière-Ouelle
La Baleine Endiablée is a microbrewery, a restaurant, a performance hall, as well as an inn. Located in Rivière-Ouelle, they welcome us since 2019 in a more than warm atmosphere! Their goal? To put forward quality products that will please both neophytes and beer geeks. Take advantage of this opportunity to make a sleepy stop and try their impressive BBQ!
I recommend the Boëze and the mechoui plate cooked on maple wood.
229, Route 132, Rivière-Ouelle
Tête d'Allumette – St-André-de-Kamouraska
The one and only Tête d'Allumette… I don't want to say I have a favorite, but I'm going to say it anyway: I love this place, I adore it! Armed with my mosquito repellent, I've been lucky enough to visit them several times since they opened in 2013. Tête d'Allumette stands out for their wood-fired beers and their breathtaking view of the river. Good to know: they have as a neighbor the Camping de la Batture SEBKA. There's even a rope to help you get there when it gets dark… or if you're too drunk, as you feel.
I recommend the Clapp! and the Blanche Tête and the pogos at the Côté Est restaurant.
265, route 132 west, St-André-de-Kamouraska
Also in Kamouraska : Café du Clocher, Boulangerie Niemand, Restaurant Côté Est, Cantine Grand'Ourse, Vignoble Amouraska, Magasin Général, Chocolaterie La Fée Gourmande.
Secret des Dieux – Pohénégamook
Le Secret des Dieux is the result of the efforts of 3 young entrepreneurs who have been committed to revitalizing their corner of the world since 2016. They chose to set up shop in a former 1930 monastery, revamped in a rustic industrial style. Unfortunately, I didn't have the opportunity to go there, but the fact that they won a Tourism Excellence Award at the Tourist Summit really makes me want to!
1252 Guérette Road, Pohénégamook
Aux fous Brassant – Rivière-du-Loup
The microbrewery Aux Fous Brassant is located in the heart of downtown Rivière-du-Loup since 2012. In addition to their beers, made from Quebec and organic ingredients, they offer a bistro-style menu that promotes local and organic sourcing. Good to know: for each tasting pallet sold, 1$ is donated to a local organization. I recommend the Fun Noir and the tray of local products.
262 Lafontaine Street, Rivière-du-Loup
Also in Rivière-du-Loup : Microbrasserie Saint-Hubière, Auberge internationale, Coco Latté, Café du Pain Gamin, Brioches et Babioles.
Champ-Gauche – Saint-Arsène
Contrary to what one might think, Champ-Gauche is not a new distillery, it is rather the new image of the Distillerie Fils du Roy. Champ-Gauche has been a family affair since 2012. They have a distillery in New Brunswick and one in Quebec since 2015. In addition to growing many of their ingredients, they have their own malting plant in New Brunswick. Take the opportunity to visit their store and taste their product on site. Unfortunately, I've never had the opportunity to visit them, but I plan to remedy that! I recommend the Pastis du bas du fleuve Ombrelle.
37 rue de l'église, Saint-Arsène
I hope I've made you want to visit the lower river! Want to continue reading? See you for the second part, followed by a road trip in Gaspésie!