Chicken and red wine alphabet soup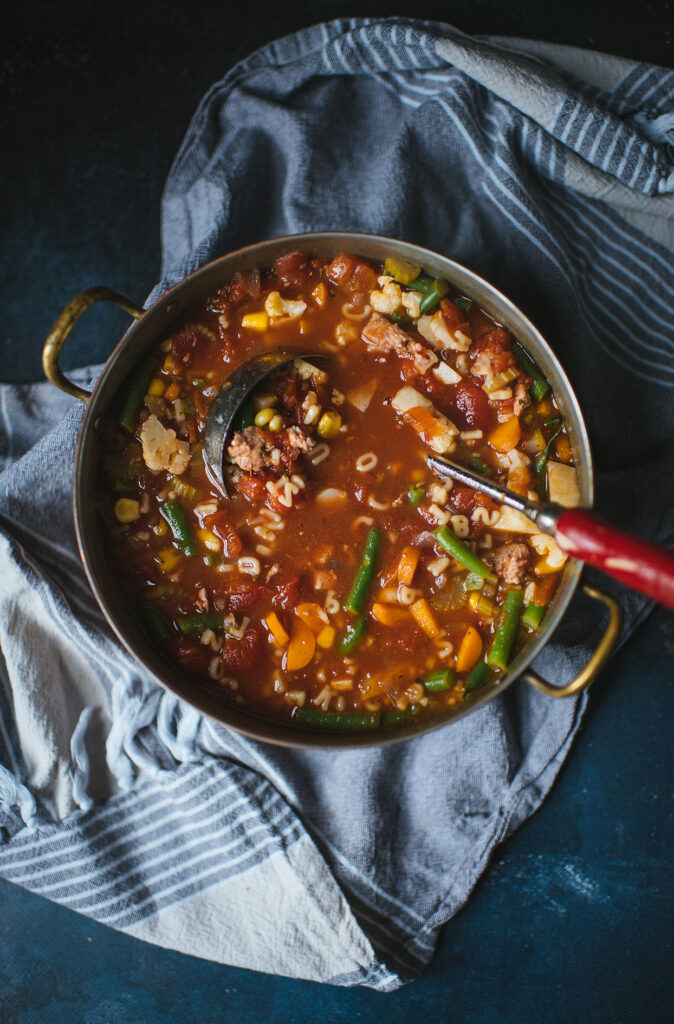 Preparation

35 min

Cooking

40 min

Servings

6 to 8

Freezing

Absolutely
This hearty comforting chicken and red wine alphabet soup is perfect for cold fall days! The touch of red wine brings a pronounced taste to the soup and believe me that with 2 cups of wine, it tastes! It is therefore important to choose a wine that you LOVE. Obviously, don't take a $50 wine, but still, not a no-name wine from the grocery store. I suggest something like the $13 Liberado Cabernet-Sauvignon Tempranillo, available at the SAQ.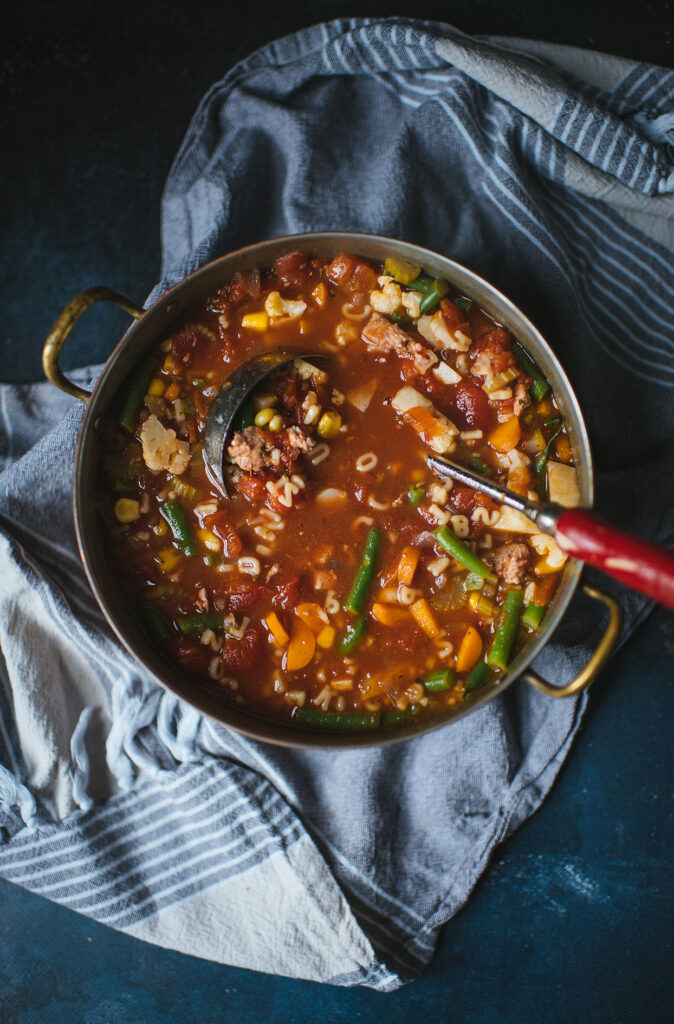 Ingredients
1 cup (250 ml) uncooked alphabet pasta
1 small yellow onion, finely chopped
2 large garlic cloves, finely chopped
Olive oil
2 celery stalks, sliced
2 carrots, halved lengthwise, sliced
2 cans 798 ml diced tomatoes with Italian spices
5 cups (1.2 l) chicken broth
2 cups (500 ml) red wine
1/4 cup (60 ml) tomato paste
1 teaspoon (5 ml) dried thyme
1 teaspoon (5 ml) herbs de Provence
1 teaspoon (5 ml) dried oregano
300 g chicken breast, finely chopped
A large piece of fresh Parmesan, about 8 cm
1 cup (250 ml) green beans cut into small pieces
1 cup (250 ml) cauliflower cut into small florets
1/2 cup (125 ml) frozen corn
Salt and pepper from the mill
Preparation
In a large saucepan filled with salted boiling water, cook the pasta al dente according to package directions. Pour into a colander, rinse with cold water to stop the cooking and drain. Set aside.
In a large saucepan over medium heat, add the onion and garlic and drizzle with olive oil. Cook for 3 to 4 minutes, stirring.
Add the celery and carrots and drizzle with olive oil. Cook for 5 minutes, stirring.
Add the tomatoes, broth, wine, tomato paste, spices, chicken, Parmesan, season with salt and pepper and mix. Cover, bring to a boil and reduce heat to medium. Simmer uncovered for 20 minutes, stirring occasionally.
Add the rest of the vegetables, mix and simmer for 5 minutes.
Remove from the heat, add the pasta and mix. Taste and adjust seasoning if necessary !