11 Quebec spirits to have in your bar for summer 2023
With the arrival of warmer weather, it's time to refresh your bar in preparation for summer BBQs, pool parties and picnics. Here are my 11 favorite alcoholic products for an exquisite, local summer of 2023.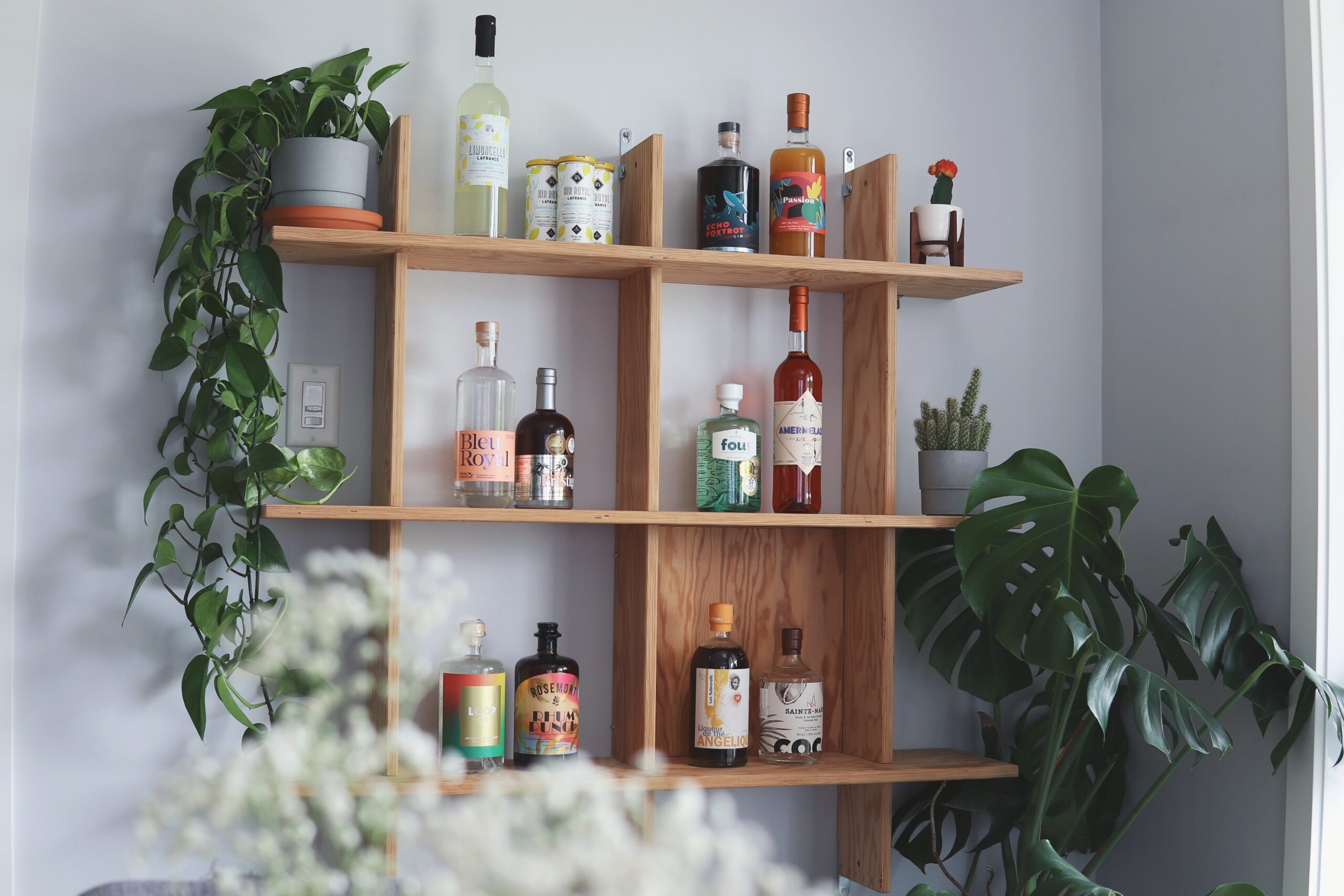 If you liked their Rhum à l'Ananas, you'll be completely under the spell of this one. Pineapple, cranberry, grape, apple, cherry, orange and passion fruit, it's a veritable explosion of summer fruits. With its lovely rosy color, this festive rum is made to be drunk in cocktails. I've already convinced my friends and family to buy their bottle, and the best advice I can give you is: run to the SAQ and put on some sunscreen!
2. Liqueur de thé Angélique
This liqueur is probably one of my favorite summer drinks. It's the bottle I buy most often, because I make super-simple cocktails with it. Everyone I know who's tried it agrees with me: it's a real gem. It tastes just like iced tea. Be careful, it's hot, it's dangerous!
Like all the other products from Les Subversifs, this liqueur pays tribute to a historical figure. The distillery was inspired by the story of Marie-Josèphe-Angélique, a young slave accused of the Montreal Fire of 1734. After one of the most important trials of the 18th century, she was found guilty, tortured, hanged and burned in the public square.
3. LOOP Mission Gin Lime et Gingembre
From gin and beers to juices and kombucha, LOOP fights food waste in a brilliant and original way. The company rescues fruit and vegetables that have been rejected because of their size or shape, and transforms them into cold-pressed juices.
Loop gin is distilled from residues from the Yum Yum potato chip factory, and freshly squeezed juice from rescued lime and ginger is added. Drinking gin and saving potato scraps? It's possible and even encouraged!
4. Domaine Lafrance Limoncello
With aromas of lemon zest and lemon verbena, this product is ideal for aperitifs or digestives. For hot days, it's the perfect accompaniment to your lemonade.
Orchard Lafrance has also produced a ready-to-drink Kir Royal, derived from Limoncello. I found it very refreshing and superbly balanced.
With aromas of cucumber, chamomile and lemony hops, this gin is completely mad. Uniquely fresh, this gin will make your mouth water in gin and tonics as well as in more elaborate cocktails.
What's more, Fou Gin comes in a bottle made from 100% glass that has already been used at least once.
Degree of alcohol : 42%
Price : 46,25$
SAQ link : Fou Gin
Cirka is the very first distillery in Montreal to manufacture its spirits from grain to bottle. To reflect our terroir, they work with local growers and pickers.
The liqueur really tastes of passion fruit, which is definitely one of my favorite fruits. Although it's not from Quebec, the distillery makes sure it's ethically grown. The liqueur is not too sweet and well-balanced, with a good taste of the fruit's acidity. It's just as good on ice as in cocktails.
After making a splash with their Bleu Royal moose gin, the Blue Pearl distillery has launched Quebec's first peach gin. Peaches are undoubtedly one of the most popular summer fruits, as they are beautiful, juicy, sweet and slightly acidic. It perfectly represents the mood of a successful summer party.
Ever since I tasted Amermelade a few years ago, I've never bought another Apérol. Not only is this Italian-Quebec product a good representation of the traditional Italian spirit, it's also a wonderful reflection of Quebec culture.
As well as being Quebec's very first bitter aperitif, it goes equally well as a Spritz or Negroni. It reminds me of fir, pink grapefruit and eucalyptus. In my opinion, all Iberville spirits should be tried at least once, they're all delicious.
Degree of alcohol : 18%
Price : 22,35$
SAQ link : Amermelade
9.
Echo Foxtrot Framboises
Echo Foxtrot is without doubt my favorite raspberry gin. I always like to have it on hand, as it's colorful and fruity, and perfect for enhancing my punches or sangrias. If I were you, I'd keep an eye out, because Alpha Tango may well be announcing new products very soon.
10.
Hydromel Cuvée Prestige au Rhum
Last year, I discovered Quebec meads and had a revelation. Miel Nature products are fabulous for making cocktails, as they naturally sweeten your potion and give it a unique touch that you won't find with any other product. Miel Nature Cuvée Prestige Rum Mead is also excellent as an aperitif with a cheese platter or as a digestif.
With the arrival of the very first mead week in Quebec, I predict that meads will gain in popularity, so I strongly suggest you start with the Miel Nature meadery, which boasts more than 89 honey-based products and manages an apiary with over 800 hives – that's a lot of bees!
11.
Sainte-Marie Noix de Coco
Have you heard of the famous Malibu Coconut Rum? Sainte Marie Noix de Coco is the much better local alternative. From the very first sip, the drink transports us to the tropics, even making my boyfriend want to pull out his Hawaiian skirt. It's exquisite with pineapple juice, or as a more complex cocktail.
It's all very well to have a list of spirits to stock up on for the summer, but you've got to know how to serve them! So I've put together a little guide to summer cocktails with the 11 spirits featured in this article. In booklet form, the guide contains 2 recipes for each of the products presented, and you can get it for $12 here.
I also suggest you subscribe to my social networks, as I'll be announcing a great local contest in the next few days. CHEERS !