The Ultimate Foodies Gift Guide 2023 🎁🎅
Whether you're in denial (like me) or not, it's time to start your holiday shopping 🎄🎁 I found you original gifts, for all tastes, to drink or eat and so much more, for example… games! I took a lot of time and even more love and fun to bring you this guide. To enhance everything and influence you even more in your purchases, several companies offer promotional codes ranging from 10% to 30% off!! 😮
The guide is divided into 7 categories: To Drink, Stockings, Gourmand, To Share, Book & Games, Tea & Herbal Tea and Coffee.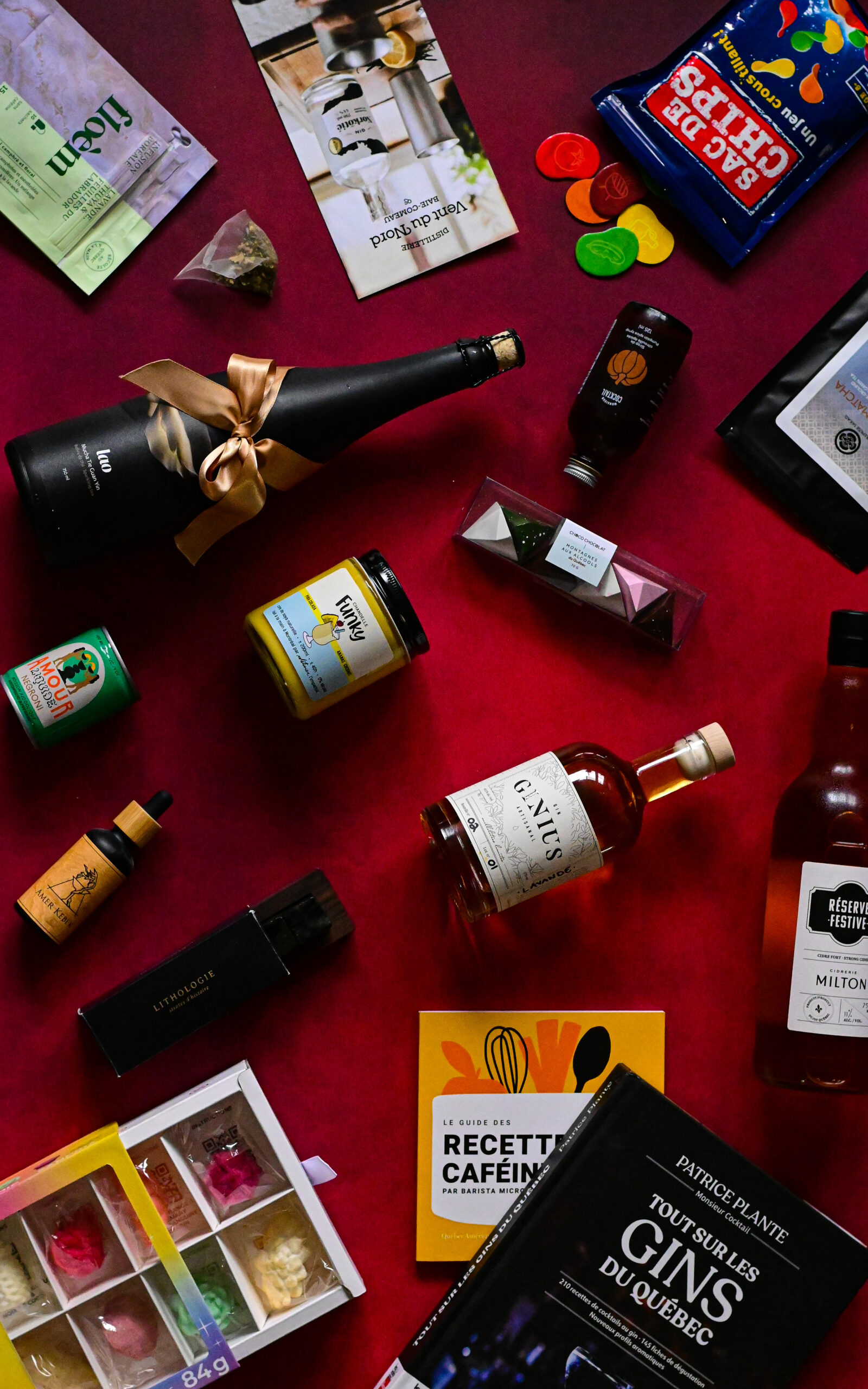 Make your own gin with GINIUS
The Ginius GINKit contains everything you need to transform a simple bottle of neutral alcohol, thanks to the unique homemade mixture, into your own Gin. The blend includes juniper berries, plants, spices & aromatics that will make your creation a success. If, like me, you have an overflowing imagination: You can add the spices of your choice. Once the maceration was finished, I added in the first bottle lavender branches and in the second bottle jasmine and rosebuds. The result is delicious and it was frankly fun!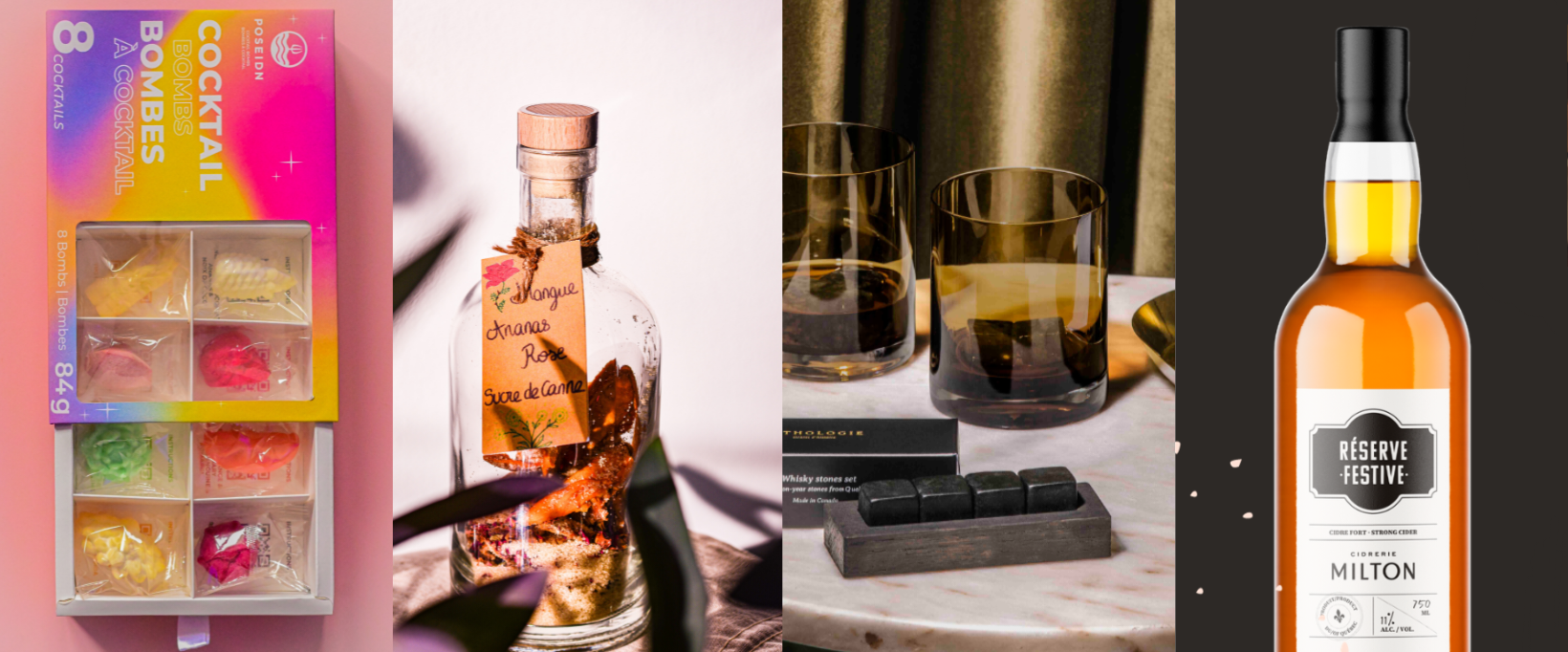 Cocktail variety box, Poseind 3D
Discover 8 flavors of Cocktail Bombs (8 best sellers). A perfect choice for those who want a little help in their selection of their Cocktail Bombs or for curious souls in perpetual search of new flavors to discover. My favourite flavours: Shaman (lychee and raspberry) and Tiki Mai Tai. Use promo code HOPPY10 for 10% off!
Make your own rum arranged with Le Sublime
The sublime offers kits to prepare your own Arranged Rum. It is a subtle blend of fruits and spices that macerate in rum, releasing their aromas to create a fruity and fragrant digestive. Their preparations include directly the fruits and spices in the bottle, you just have to add your rum and let macerate a minimum of a month before tasting. My favourite flavour? Fla'Mango: Mango, pineapple and rose flower. Use promo code HOPPY15 for 15% off until December 15th!
The stones to whisky Lithologie
Discovered while listening to Les Dragons in 2020, I did not hesitate to order their whiskey stones and I do not regret my purchase. I would even go so far as to say that it is one of my most profitable purchases, because stones are good for life! The stones used exist between 940 million and 2.5 billion years… you can even put them on your will ahahah!
Give a Milton cider as a gift
Milton Cider House no longer needs a presentation. Rooted since 1927 in Sainte-Cécile-de-Milton, it is thanks to the apple that the love story for cider was born in the heart of Marc-Antoine. Fourth generation to cultivate the ancestral lands, he dreams of the day when the fruit of family work will become the inevitable Sunday evening gathering and other events! Here are two recommendations for your holiday aperitifs:
Golden Russet is a cider made solely from the Golden Russet apple, this cider evokes white-fleshed fruits and citrus fruits. On the palate, notes of pineapple, pears and bananas that reveal a generous and refined cider. It replaces with originality the sparkling wine during festive receptions.
Réserve festive is a medium-dry full-bodied cider, like our Quebec winters. It results from a tasty blend of several dry ciders and ice ciders that makes it an intensely aromatic product. I dare to say that it is one of my favorite ciders, because it looks like Réserve d'hiver cider! (Exclusive in store)
Offer one of my favorite ❤️ Quebec spirits !
Drink local, encourage local, promote Quebec, good for the environment, all reasons are good to encourage Quebec distilleries. Click here to discover local signed products available at the SAQ : Spiritueux | SAQ.COM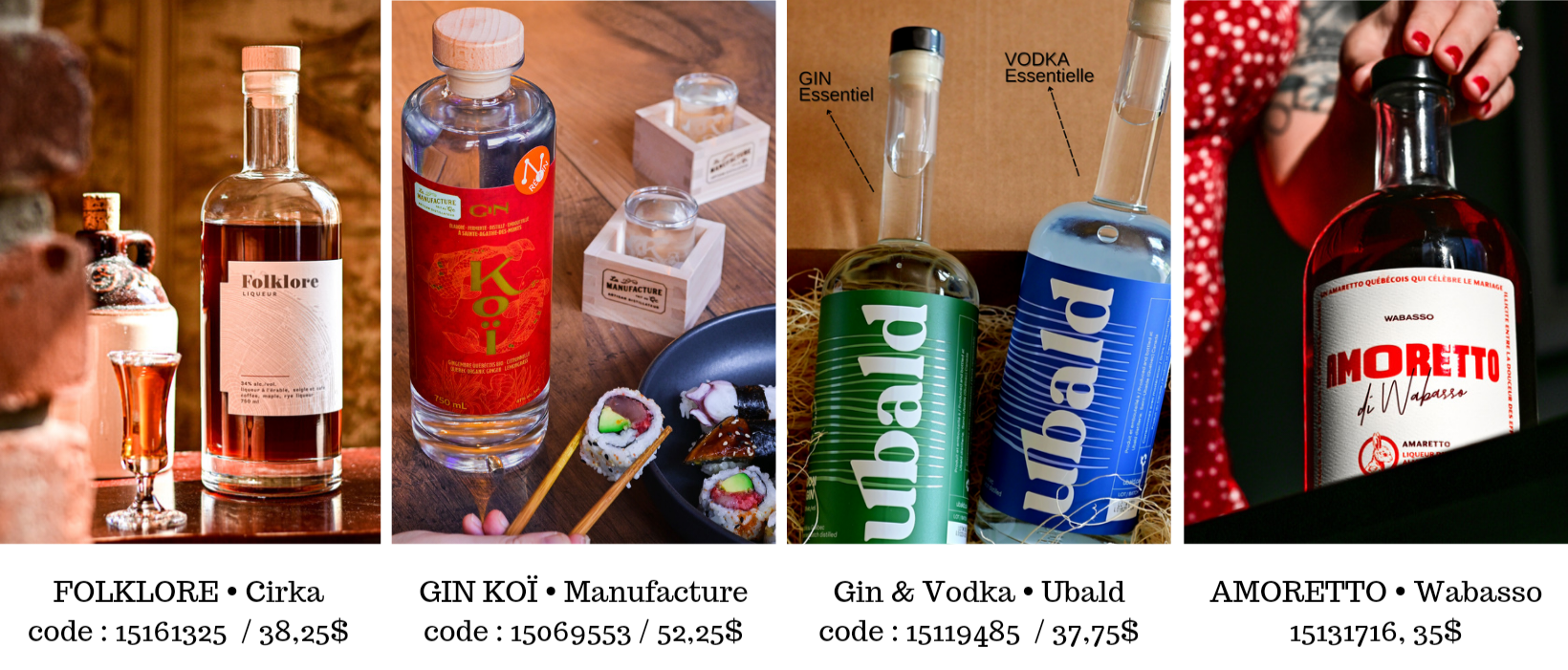 Stocking stuffer category 🎅🏻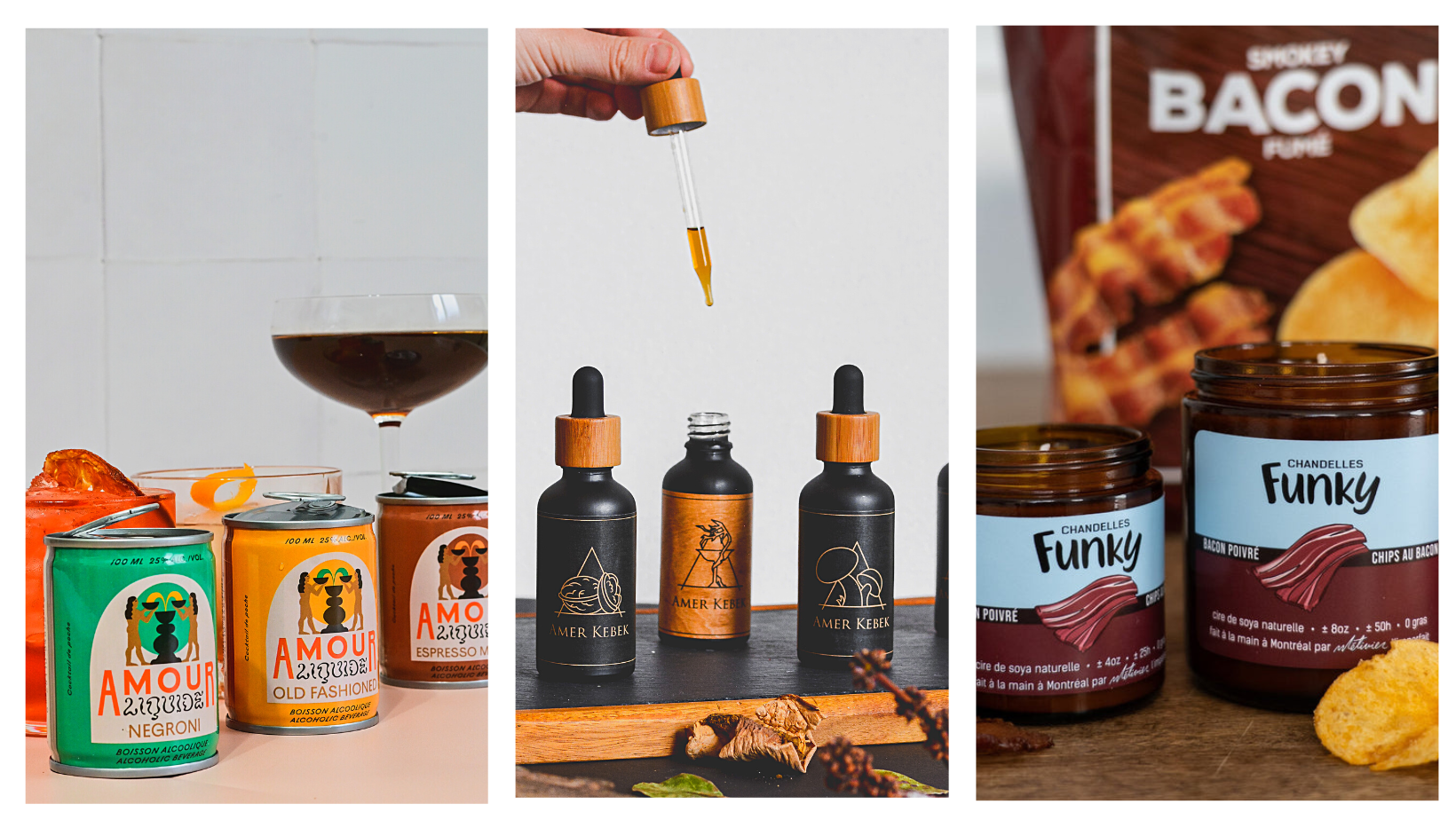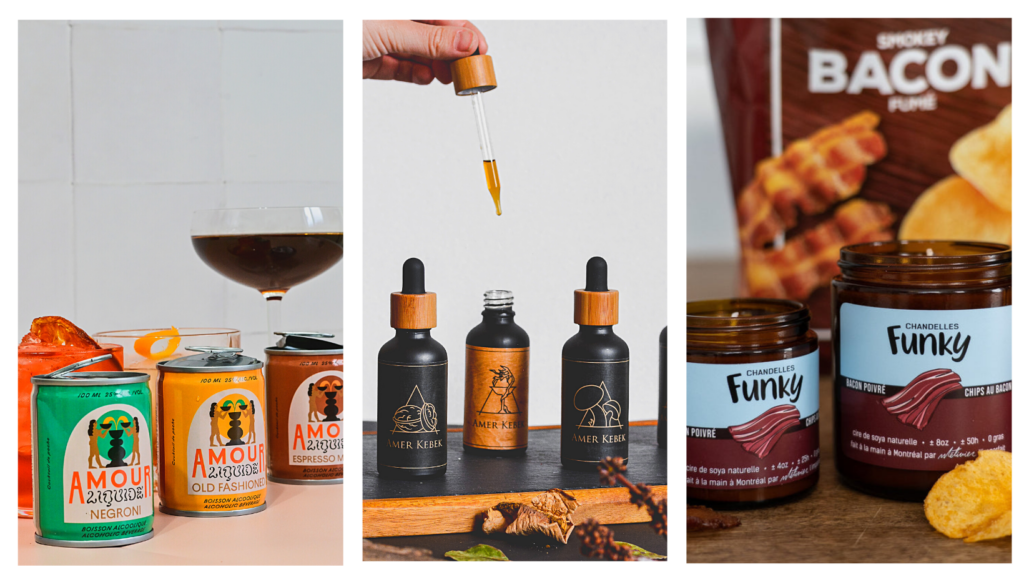 Amour Liquide, pocket cocktail
The first pocket ready-to-drink cocktails, a first in Quebec! These are real quality-bar cocktails with 25% alcohol, in a practical and adorable format. The ideal format for Christmas stockings and I confirm that it is excellent! I always have two or three in stock: Margarita, Negroni, Old Fashion and Espresso Martini. Available at the SAQ.
Quebec Bitters by Amer Kebek
Their collection of bitters is designed from a maceration of Quebec grain alcohol: Flowers, wild mushrooms, fruit trees and other products from the wild harvest are all key elements for maceration. The co-founders work from these ingredients from our land. That's why these bitters are exceptional products and so easy to slip into a Christmas stocking!
The foodies candles FUNKY
Say goodbye to B&B candles. Say hello to FUNKY candles! Pickle, cheese poop, coffee, beer, Oreo, poutine, bacon. These small candles are perfect to complete a gift box or to add in a stocking. Use promo code HOPPY20 for 20% off!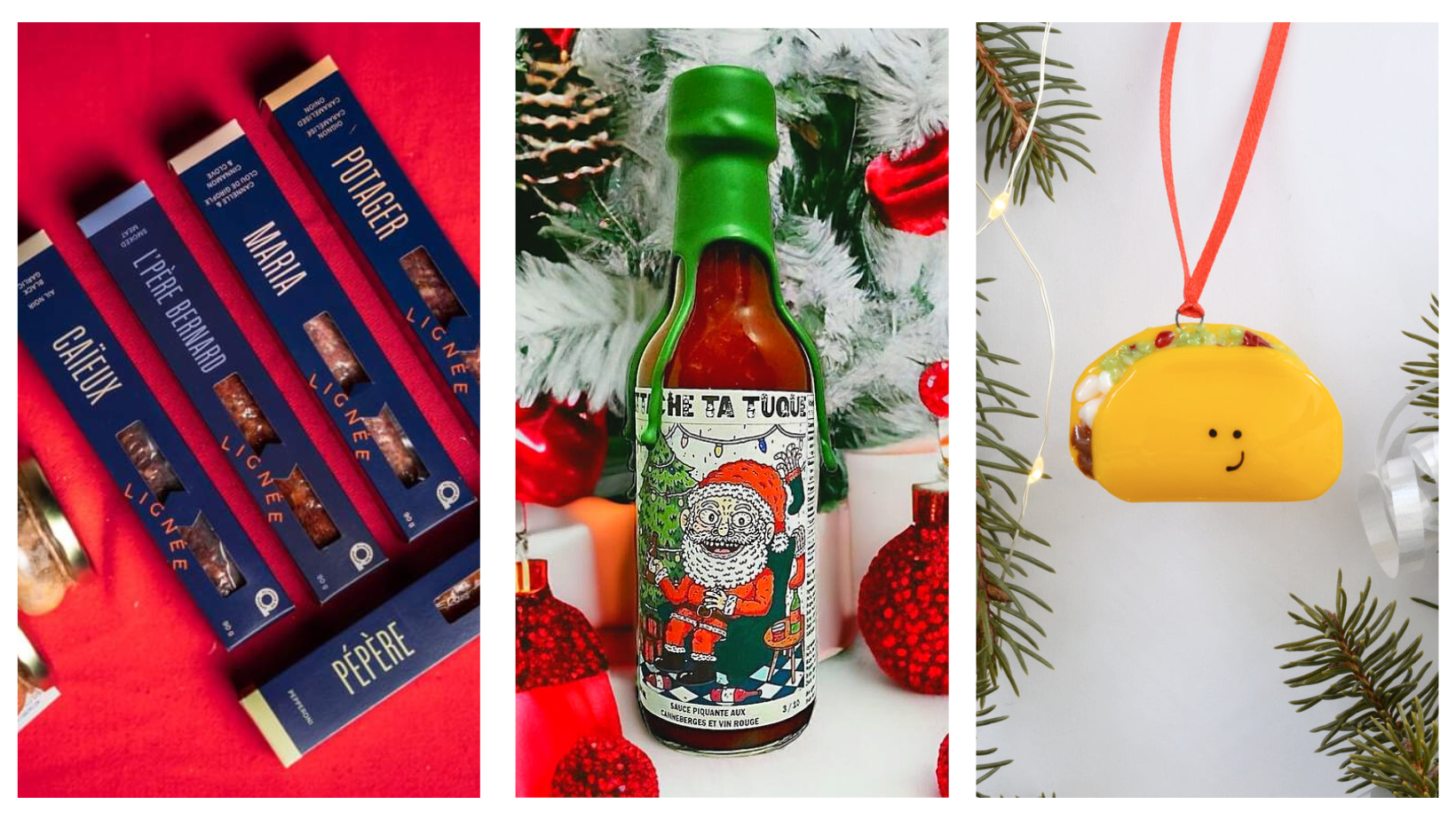 The sausages of Lignée RR2
I am guilty of eating too much sausage and I assume. This year, I discovered the sausages from Lineage RR2… I fell in love! Lineage RR2 is a creative charcuterie that concocts products inspired by the heritage of Mauricie. Their fermented and dried sausages, authentic charcuterie and artisan smoked meats are made with the best quality regional ingredients. They even dare to put dark chocolate in their sausages!
Holiday Special Hot Sauce by MTHELL
For the second year in a row, MTHELL collaborated with the Kobloth vineyard of Saint-Bruno to concoct a spicy sauce with cranberries and red wine. It is tasty, rich in flavor and slightly surette with an intensity that the whole family can appreciate.
Christmas Tree Tacos by Station Pôle Nord
Station Pôle Nord is proud to be a Quebec company that carefully handcrafts each of its ornaments. Take a look at her shop, everything is really adorable!
Northern Syrup by Vent du Nord et KWE
Resulting from the meeting between KWE Cocktails and the Vent du Nord distillery, Northern syrup highlights our precious boreal spices. The Camerise and Norkōtié poplar join the honey and goldenrod of the Lake to offer a unique flavor «rustic and elegant». A happy wedding that will transport you to the heart of our beautiful northern forests. Use the promo code VDN30 for 30% off the Vent du Nord boutique and why not complete your gift by adding a bottle of Norkōtié gin, available at the SAQ?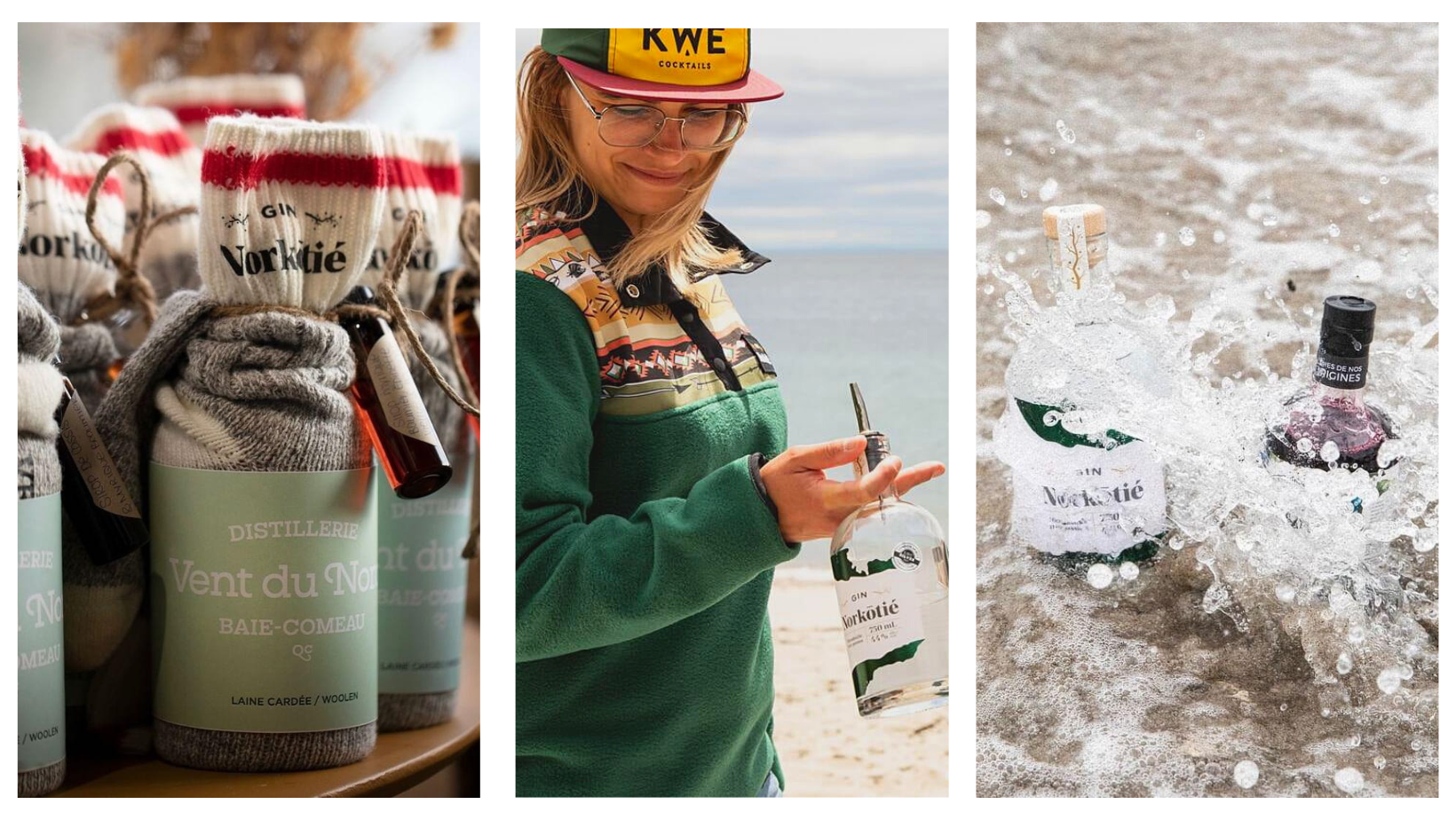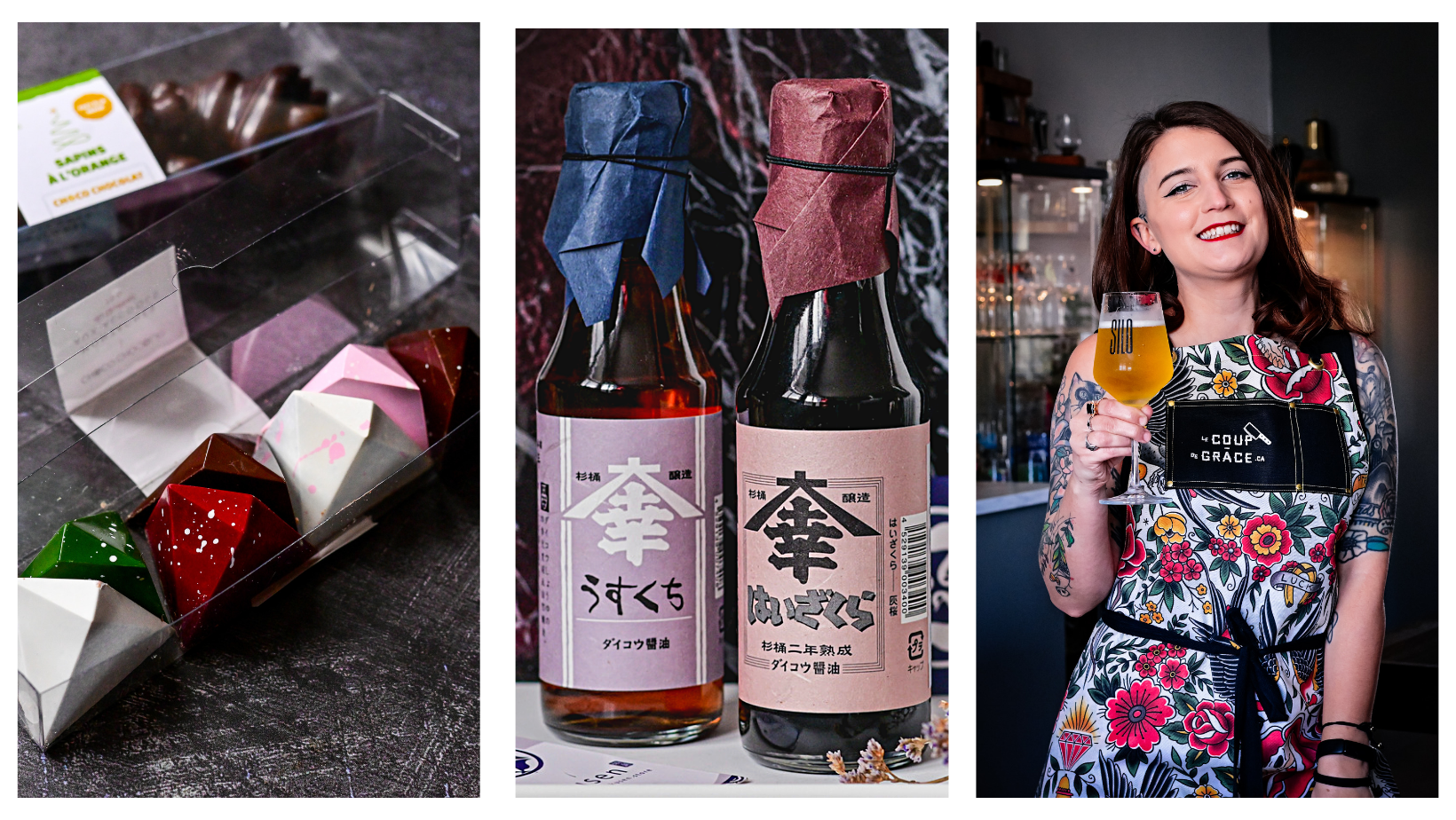 Box of 7 chocolates with alchohol from Qubec Choco-Chocolat
Choco Chocolat has been in Joliette since 2007 and stands out for its collections of delicious pieces. Made from high quality pure chocolates and the best (often local) ingredients to create unique chocolates. I keep the flavors secret, but here are the alcohols used in the manufacture of the mountains to alcohols of Quebec: Amaretto Miele, Coureur des bois, Gin Saint-Laurent of the St-Laurent distillery, Mulled wine, Gin with blood orange of the Distillery 3 Lacs, Limoncello from the 3 Lakes Distillery and Morbleu Spiced Rum from the Marianna Distillery.
Japanese soy sauce imported by Tokusen
Okay okay… it is not Quebec, but it is impossible to ignore the best soy sauce I have had the chance to taste and it is available here in Quebec thanks to Tokusen. Founded by a couple eager to obtain quality Japanese products, their mission is to select the best Japanese products, to highlight the know-how of its craftsmen and make their work accessible to all. I'm their #1 fan!
The Coup de Grâce shop
Welcome to our shop section! Here you will find a selection of kitchen items, ranging from clothes to aprons to knives. We have everything you need to cook with style and comfort. Explore our shop to find the perfect item for you or as a gift.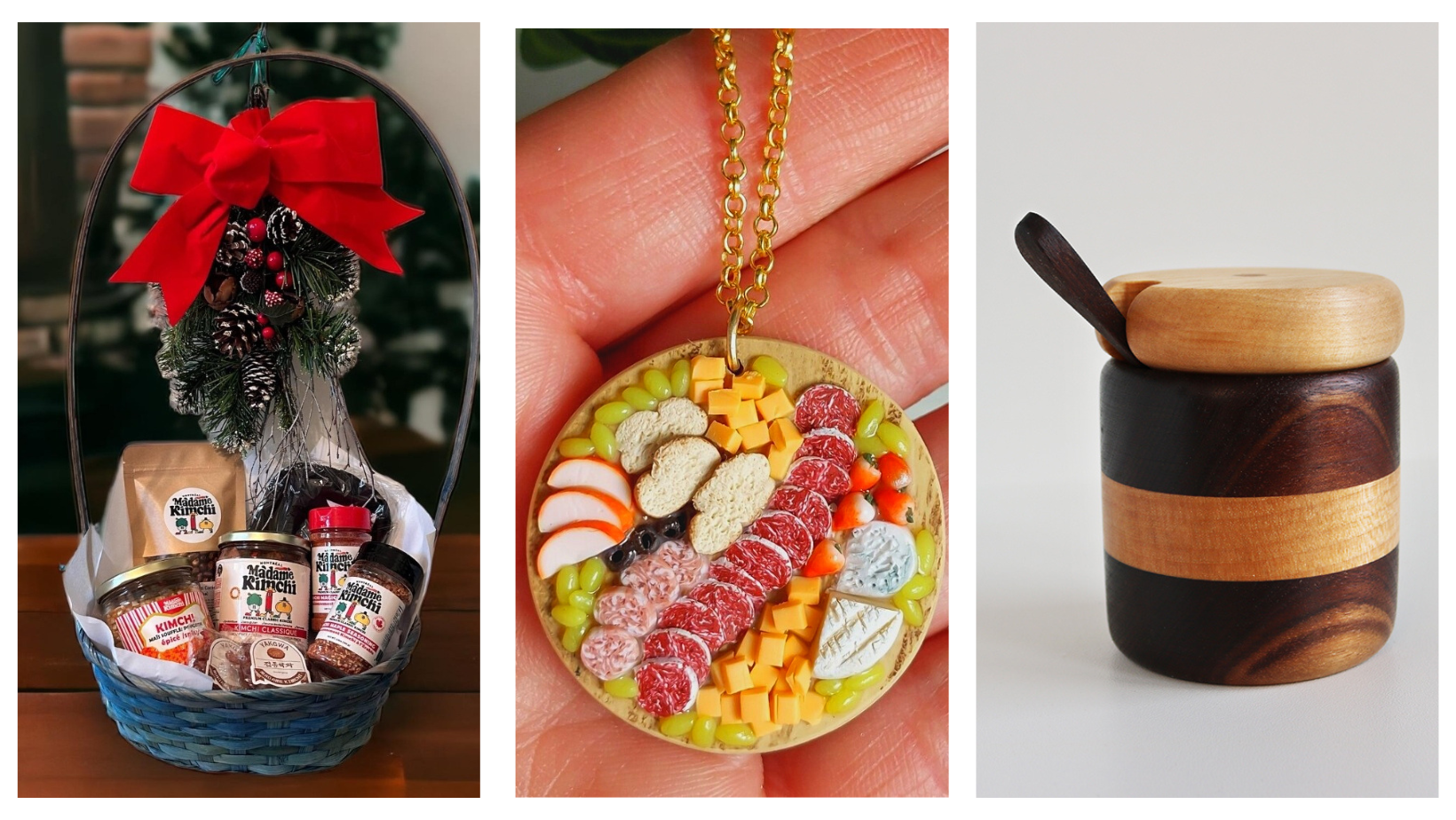 Madame Kimchi products
Add a Korean touch to your holiday gifts with the Madame Kimchi Gift Box. Includes their classic kimchi, popcorn, kimchi seasoning, gochujang mayo, peanut satay sauce, gochujang sauce, Korean BBQ sauce and 3 Korean baklava. Enjoy free shipping in Montreal, Brossard and Laval.
A necklace for #1 fans of charcuterie tray by Woodsmoke & Willow
A little funky gift, which I still found very funny to add ahah. This miniature charcuterie tray pendant is very realistic!
Salt Hand by Tranche de bois
For several years, David-Olivier, cabinetmaker founder of Tranche de bois, recovers scraps of unusable wood for other workshops. While promoting the circular economy, he creates original everyday objects from this revalued material. Lighting, kitchen accessories, fashion or decoration. I came across this company by chance and I admit I had a crush on their pepper and salt!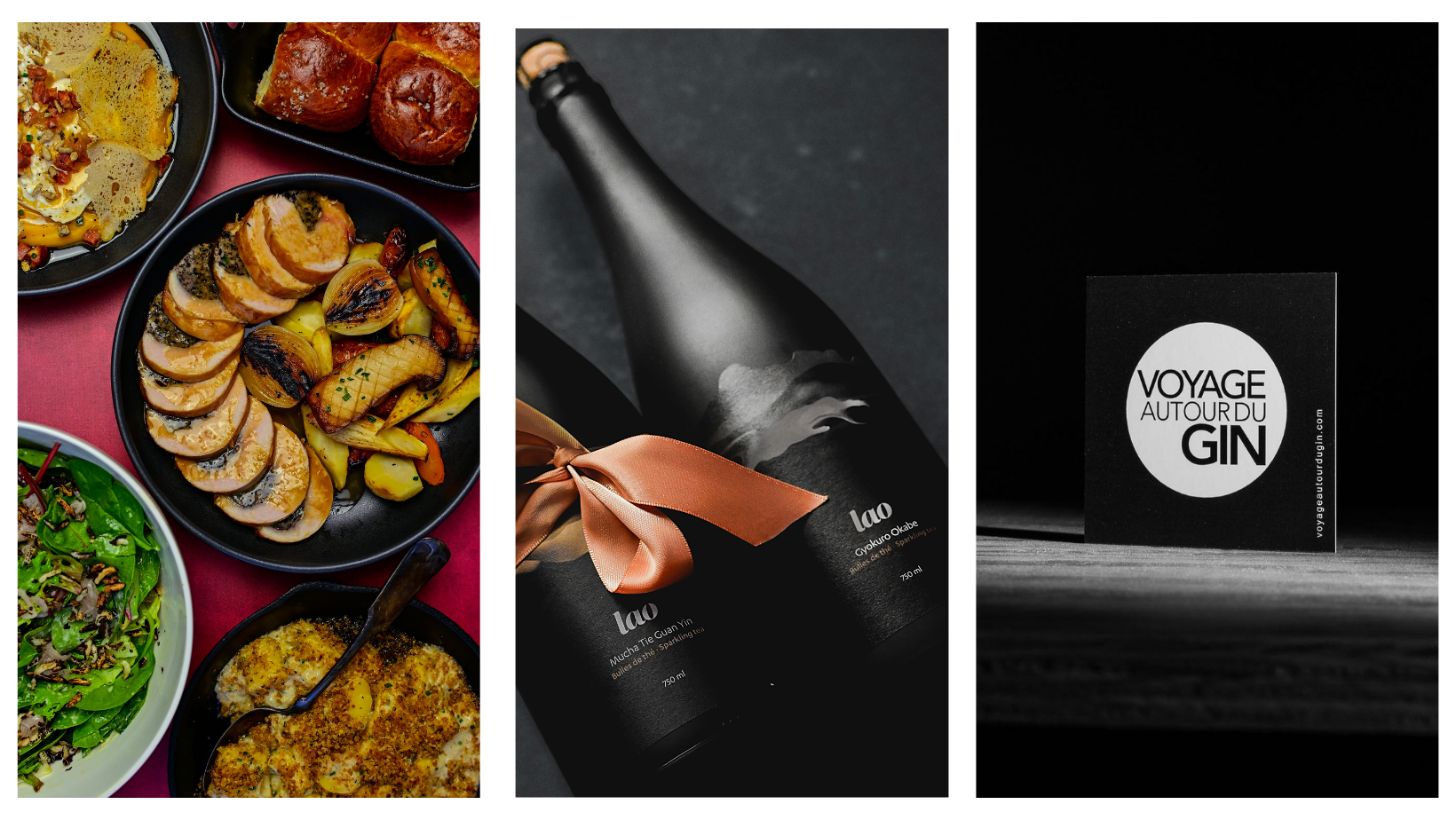 Holiday Meal for 2 by Édouard & Léo
For a memorable holiday supper, there is nothing better than a traditional meal with the people we love. For the occasion, Édouard & Léo (from the Hoogan & Beauford family) offer a formula that includes everything you need to make a festive supper for two people. I tested this box before its launch, and I was completely amazed! Everything was perfect, tasty and simple. I counted about 30 minutes of preparation, dishes included 😉
Offer tea bubbles by LAO Kombucha
Celebrate in a unique way! Discover Bulles de Thé, a non-alcoholic drink that evokes the complexity and elegance of sparkling wines. At the base of this experience are two distinct flavors: Gyokuro Okabe, a very distinguished green tea, commonly known as shade tea, and the refined Mucha Tie Guan Yin, a cooked Taiwanese wulong. These exceptional teas offer rich nectars, perfect to accompany your special moments, whether for an aperitif, a meal, or simply to celebrate all the joys of life. Use the promo code BULLEHB to enjoy free shipping until December 10th!
Offer a gin tasting at home by Voyage autour du gin
Stemming from a unique and unifying concept, Lukas offers a gin tasting service at home. Focused on pleasure and discovery, live an ephemeral moment that will familiarize you with this coveted spirit. Working in the greater Quebec City area, Voyage Autour Du Gin is attentive to your needs to ensure the success of your event!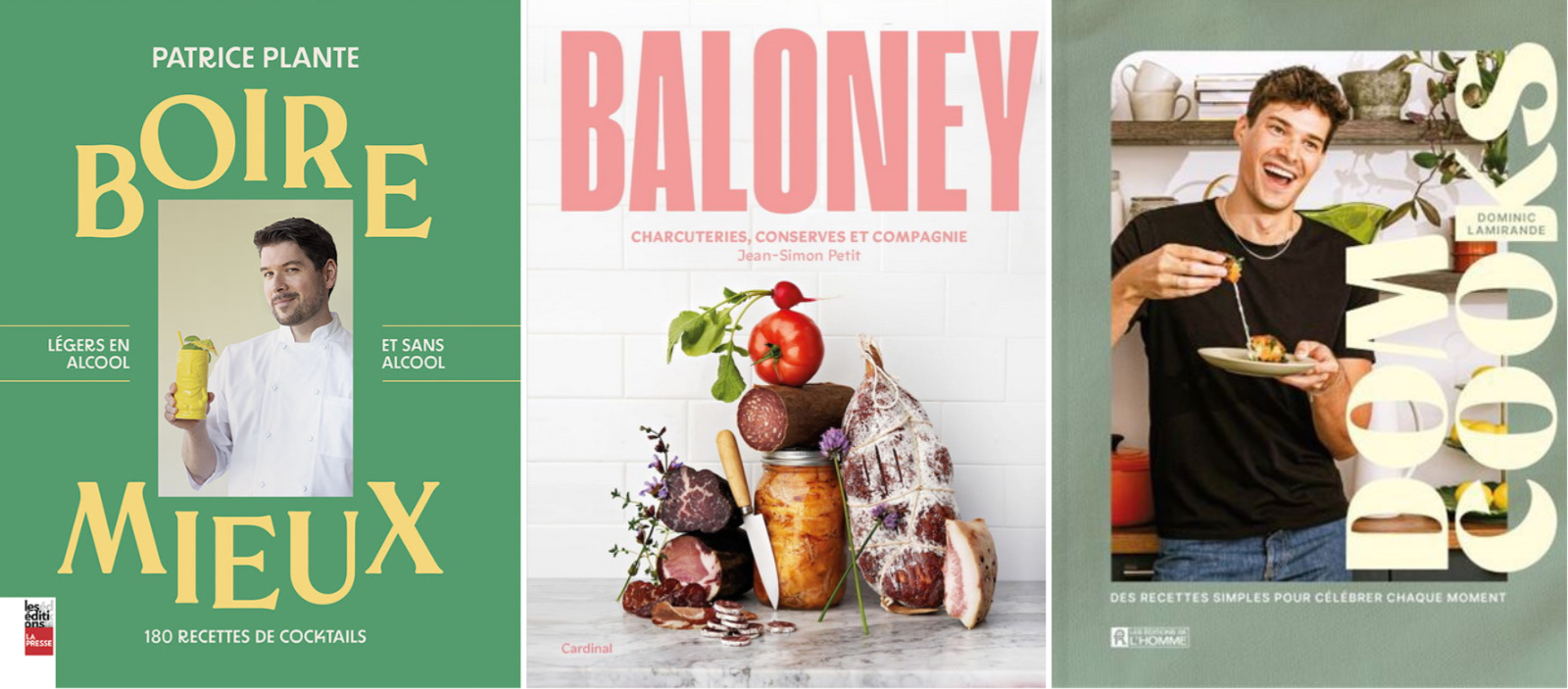 Boire mieux : a novelty by Patrice Plante
Whether you are sober, curious or simply looking for new ideas to moderate your alcohol consumption, this guide will make you discover more than 180 recipes of light or non-alcoholic cocktails divided into 4 categories: Easy + Easy, Classic cocktails, Light cocktails, Non-alcoholic cocktails. I would add that the books "Tout sur les gins du Québec" and "L'aventure de la mixologie" are indispensable. Use the hoppybitch15 promo code for 15% off!

Dom Cooks : simple recipes to celebrate every moment
The winner of the show Cook at all costs, on Netflix, shares recipes and tips that turn meals into pure pleasure! Dominic signs a book in the image of what makes his success: friendly and inspiring. Through 80 recipes, it invites you to celebrate ALL gourmet moments, both the great suppers of the weekend and the dishes of the weekdays, not to mention the lunches and snacks with superfoods.
Baloney : Charcuterie, concerves et co. by Jean-Simon Petit
With Baloney, the master butcher Jean-Simon Petit offers us privileged access to the world of artisanal charcuterie and guides us in all simplicity in the manufacture of fresh sausages, dried sausages, smoked meat and terrines. Also on the menu: preserves, fermentation and bakery. Baloney is also a return to the roots and a tribute to local products with more than 70 recipes, some signed by illustrious figures of gastronomy (Patrice Demers, Stefano Faita, Stéphane Modat).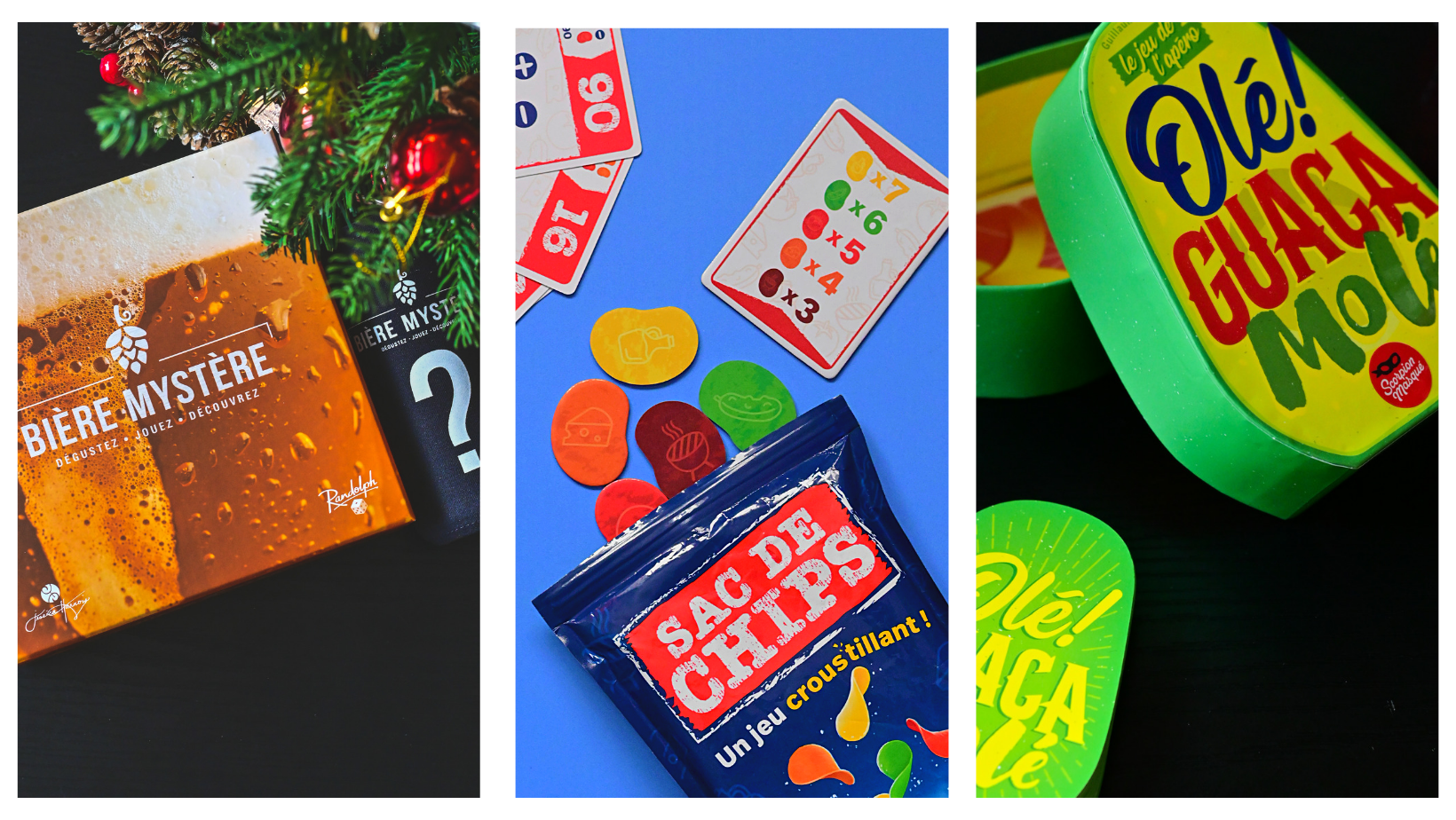 Olé Guacamolé : The aperitif game by Scorpion Masqué
Spice up your 5 to 7! Eight seconds of rules for fifteen minutes of laughter. Take turns pronouncing a word that contains none of the letters visible on the table and that is related to the previous word. It gets heated because we add a letter to each round. A simple and very fun game with family and friends.
Sac de chips : A crispy game by Randolph
Bag of Chips is a delicious game with 5 typical Quebec flavors. A game is played in several rounds.  Each round has 4 Chips draws. Choose the right Objectives cards to win the round. Goal: To be the first player to win 4 Victory Tokens. At home, we play ALL THE TIME, we love this game fast and easy to understand.
Bière Mystère by Jessica Harnois and Randolph
Worthy spiritual successor of the successful game Vin Mystère, Bière Mystère allows you to discover more than 50 beers from Quebec microbreweries!  Bière Mystère offers you to learn about beer by focusing on its visual, olfactory and gustatory properties, its transparency, its style, its bitterness and its alcohol content. Each part allows you to discover a mystery beer.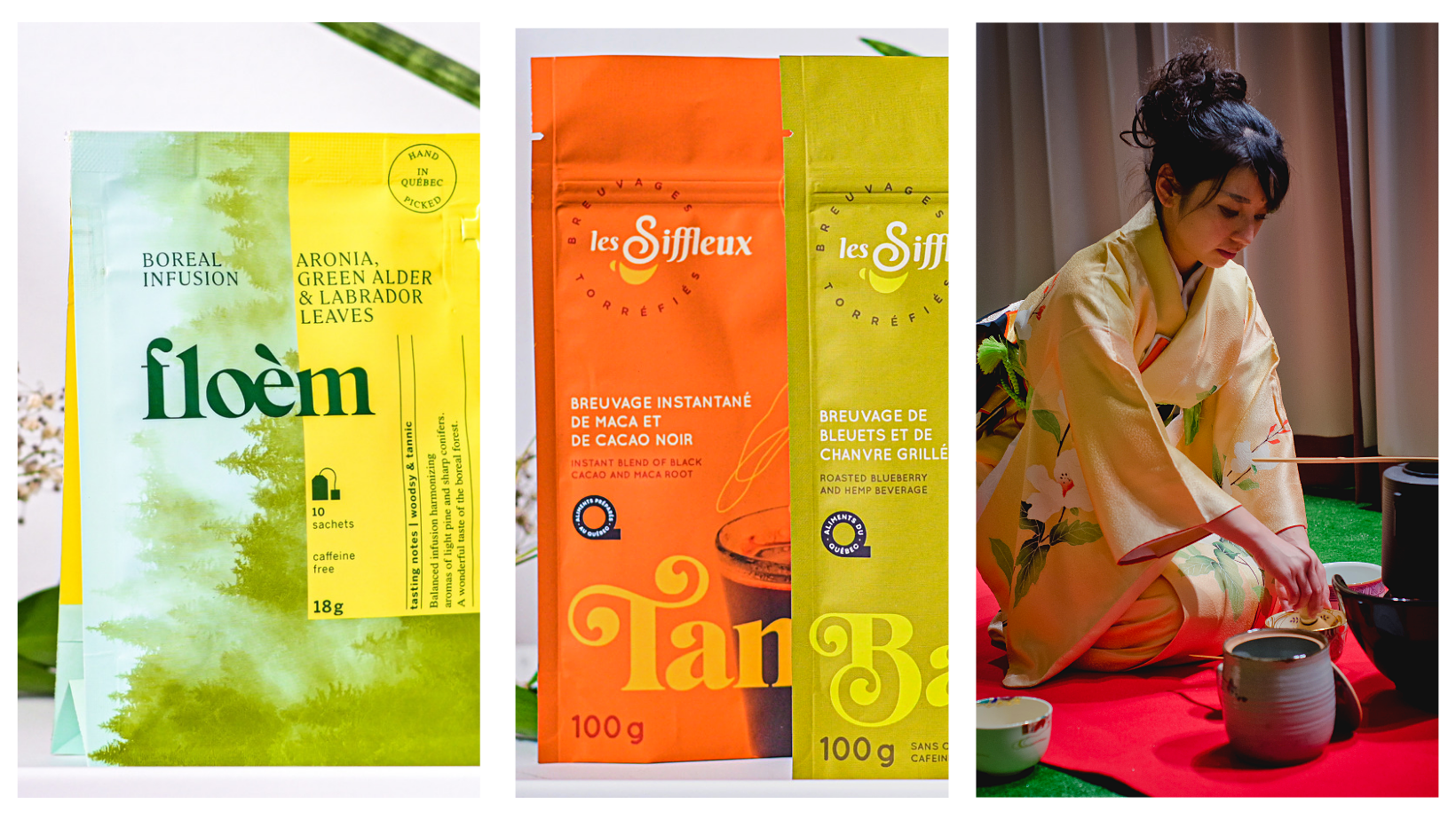 The boreal infusions by Floèm
Floèm is a boreal infusion company harvested in Quebec and by hand. Their products all contain Labrador tea and they deal with growers/gatherers who promote environmental protection and restoration of damage to nature. In addition, the humans behind are really great <3 My favorite infusion? Pink and Chamomile! Use promo code LCG15 for 15% off!

The beverages roasted by Les Siffleux
Caffeine intolerant people (like me) will be happy to try alternative beverages to coffee. Whistles are beverages made of roasted berries and roots. Without caffeine, made with organic ingredients, Siffleux are drunk hot or cold. Four flavours available: Roasted cranberries – Maca & Ginger – Blueberry & Hemp – Maca & Dark Cocoa. It is a very amazing and original product to offer!
Offer a tea ceremony by Sakao thé
Reina hosts Japanese tea ceremonies, called cha-no-yu. Its mission is not only to discover the tea culture, but also the Japanese culture more widely. This is an opportunity to experience a tea ceremony to prepare Usucha matcha (light matcha) with Higashi (light candy). I think that a zen moment is a beautiful gift to make, especially since Reina is really adorable and exudes so much sweetness.

Tea and accessories at T-Guru
The company Thés Guru, founded in 2003, is a tea house, importer, distributor and seller of nearly 500 kinds of premium teas and herbal teas, located in Montreal. Their products are either organic, eco-responsible, ISO certified or fair trade. I discovered T-Guru at the Asiasie market. They offer a wonderful range of teas, herbal teas, accessories, chocolate and workshops. There are plenty of beautiful gifts for tea lovers, on their website and in store at the Oishi Bar in Matcha.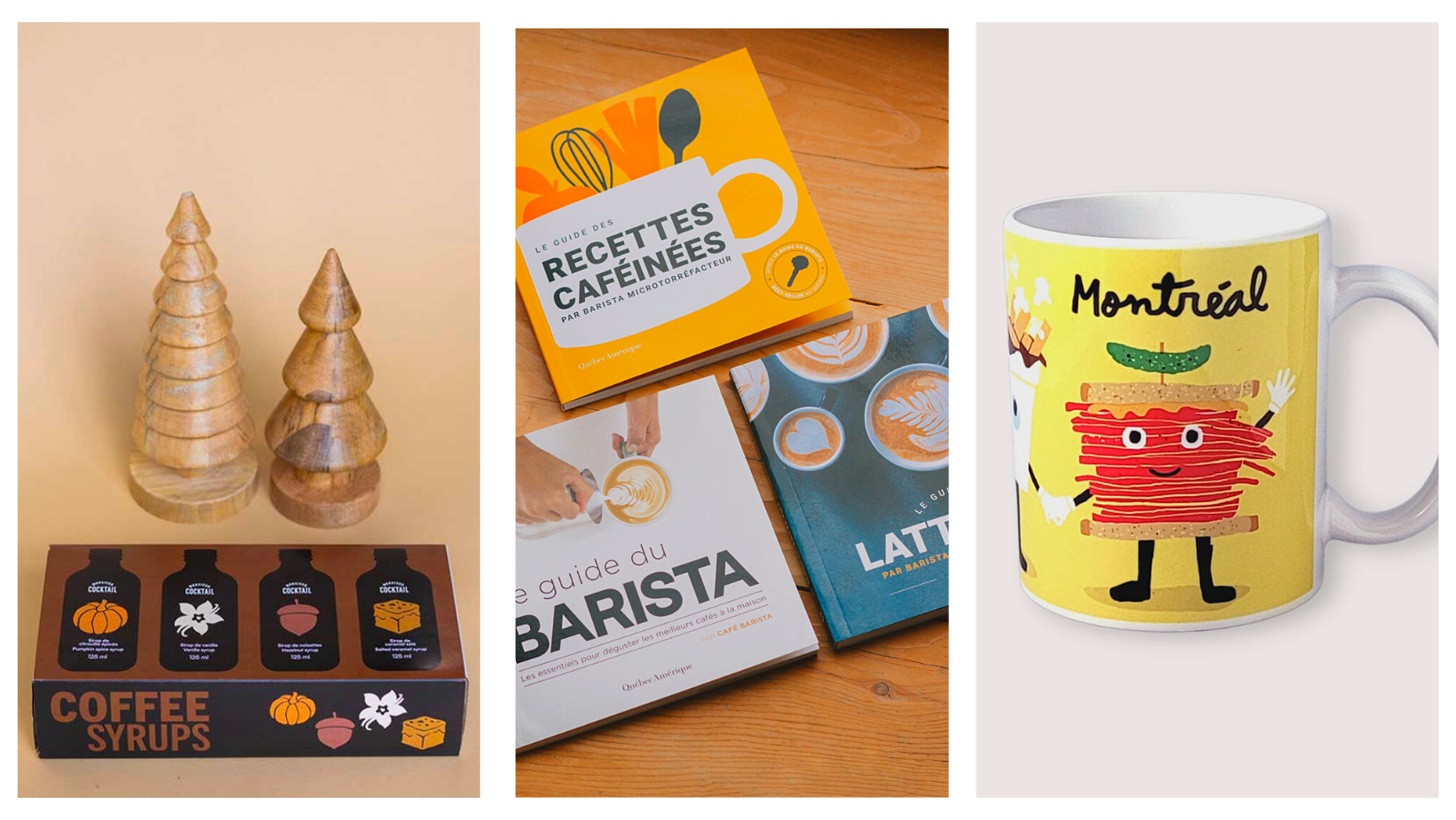 Box of coffee syrups, Monsieur Cocktail
The perfect gift for those who love Starbucks, but want to save lol. The incredible Limited Edition Coffee Syrups Box contains 4 natural and handmade 125 ml syrups to create the most delicious coffees and surprisingly enhance your cocktails. Each flavor has been developed with the utmost care and the best ingredients so that you never miss your "comic" coffees again. Use the hoppybitch15 promo code for 15% off!

Offer a weekly or monthly subscription
Barista, Th3wave, Nektar, Café Saint-Henri, Pista, Brûlerie du Quai, all offer subscriptions. These subscriptions give you the opportunity to try different, freshly roasted coffees, at the frequency of your choice and in any case, the subscription is economical!

Barista Book Trio
An ideal trio of books for coffee lovers: The Barista's Guide: the essentials to taste the best coffees at home, The Latte Art Guide as well as The Caffeinated Recipes Guide. Discover tips and tricks from their barista experts to prepare the best coffees and delicious recipes. I just received Le Guide des recettes caféinées last Christmas and I love it!
Montreal Cup Finally Reunited by Articho
Do you know the trio bagel-poutine-smoke meat? Must-see Montreal gastronomy! This mug is illustrated by Quebec artist Francis Léveillée. A funny souvenir of Montreal, to buy or give as a gift.
I hope I helped you find the perfect gift and Happy Holidays!!
Note that some of the products were sent to me for free, but I received no remuneration. Also, promotional codes are offered by companies, they do not bring me any benefit, ENJOY!! ❤️