Gnocchi poutine with flank steak and rum sauce

In collaboration
with le rhum épicé L'Assemblée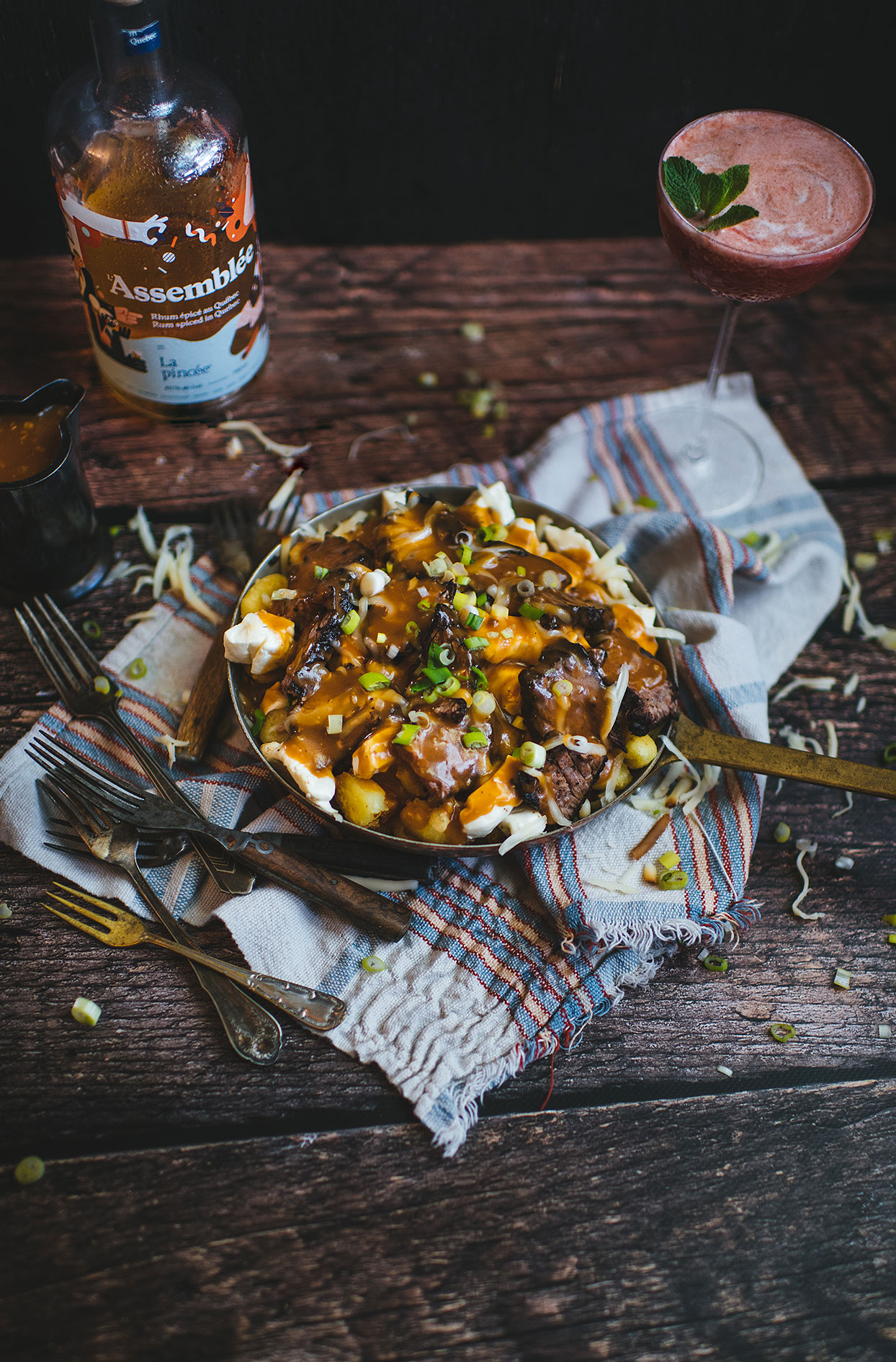 Preparation

45 min

Cooking

35 min

Servings

2 à 3

Freezing

I do not suggest
In collaboration with the new spiced rum L'Assemblée, I present this gnocchi poutine with grilled flank steak and rum sauce. THE recipe to celebrate Saint-Jean or simply life!!! This rum has been crafted from a blend of spices carefully selected by La pincée, including cardamom, caraway, fennel, orange peel, cinnamon and vanilla. A must-have in your bar!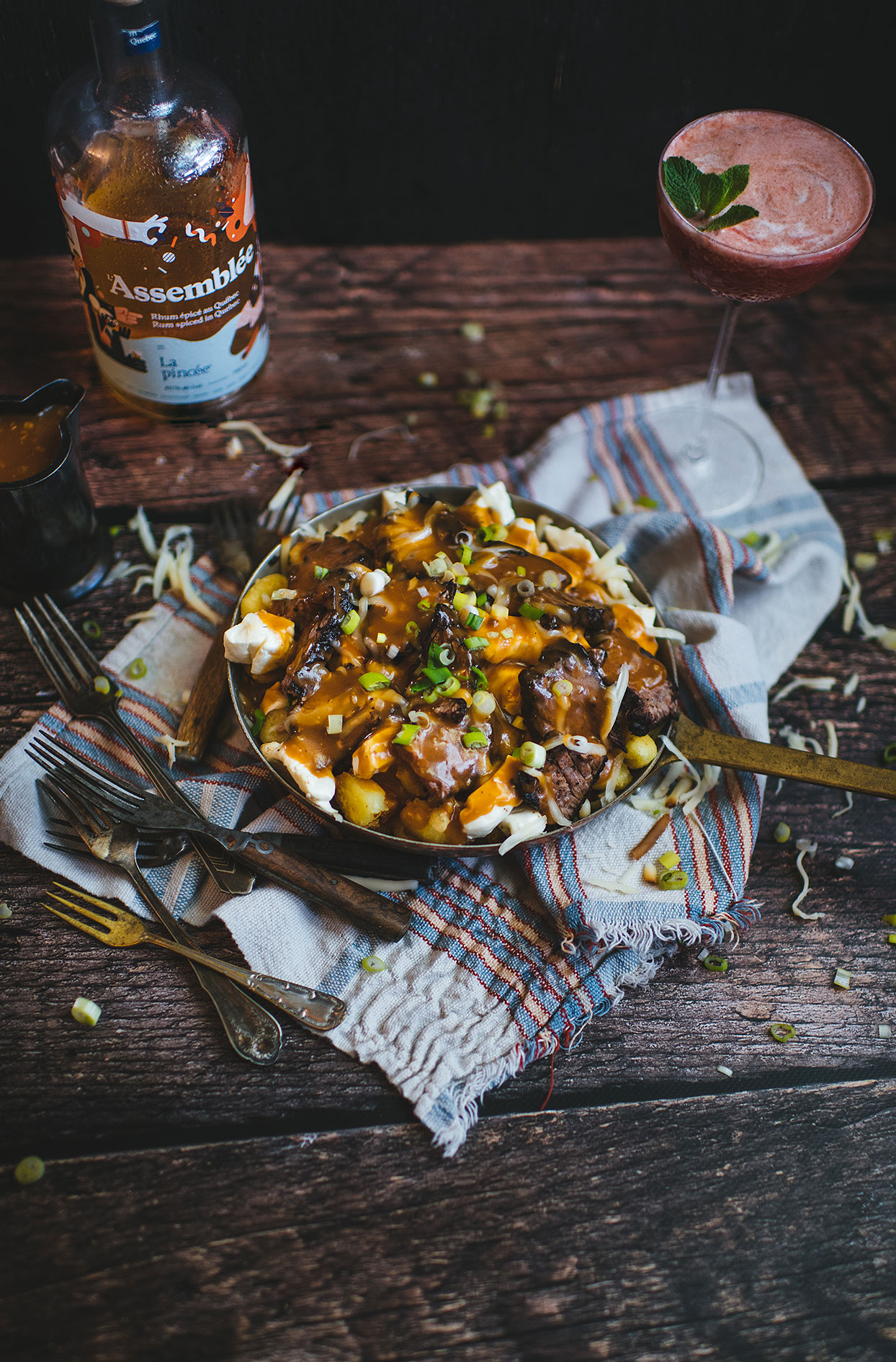 Barbecue steak
300 g unmarinated flank steak
1/2 cup brown sugar
2 tbsp. salt
2 tbsp. smoked paprika
1 tbsp. dried basil
1/2 tbsp. ground cumin
1/2 tbsp. onion powder
1/2 tbsp. garlic powder
1/2 tbsp. ground black pepper
1 tsp ground coriander
1/2 tsp. cayenne pepper (optional)
Rum sauce
1/4 cup butter
1 clove garlic, minced
1 shallot, finely chopped
1/4 cup flour
2 1/4 cups beef broth
1 1/4 cups chicken broth
1/3 cup Assembly Spiced Rum
2 tbsp. cornstarch diluted in 3 tbsp. cold water
3 tbsp. ketchup
8 dashes Tabasco
Salt and freshly ground pepper
Ingredients
500 g gnocchi
Vegetable oil
300 g ultra-fresh cheese curds that go skouik skouik
150 g smoked Oka cheese WITH rind, grated
1 green onion, thinly sliced
Preparation
Place the flank steak in an airtight dish and set aside. Drizzle with olive oil and toss to coat.
Place the ingredients for the dry barbecue marinade in a bowl and mix. Pour a few tablespoons of dry marinade over the meat and spread to make sure it's all over. Drizzle with olive oil, massage to coat and set aside.
In a small saucepan heated over medium-low heat, melt the butter and add the garlic and shallot. Cook, stirring, for 3 to 4 minutes.
Add flour and cook, stirring, for a further 2 minutes.
Add beef stock, chicken stock and rum and bring to the boil. Reduce heat to low and simmer for 2 minutes. Whisk to break up lumps.
Add the cornstarch, ketchup and Tabasco, then season generously with salt and pepper. Simmer for about 5 minutes, or until sauce reaches desired consistency. NOTE: This sauce MUST be salted to bring out its flavours. Feel free to add plenty of salt! Keep warm.
In a non-stick saucepan filled with boiling salted water, blanch the gnocchi for 1 minute. Pour into a colander, drain and return to the pan. Pour about 1 cm of oil into the bottom of the pan and heat over high heat. Brown the gnocchi for 4 to 5 minutes on each side. Remove from oil with a slotted spoon and keep warm.
Preheat barbecue to maximum power and reduce to medium. Oil the grates. Place the flank steak on the heat and cook for approximately 15 minutes, or until internal cooking reaches 135 F. Transfer to a plate, cover tightly with aluminum foil and let rest for 5 minutes before slicing against the grain.
Assemble your poutines! Divide the gnocchi between the plates, then add the cheese and flank steak. Bury with smoked cheese, drizzle with sauce to taste and garnish with green onions!